Every week each of our Movies and Music Library Team will be bringing you the best of what we're watching and listening to so you can enjoy it too.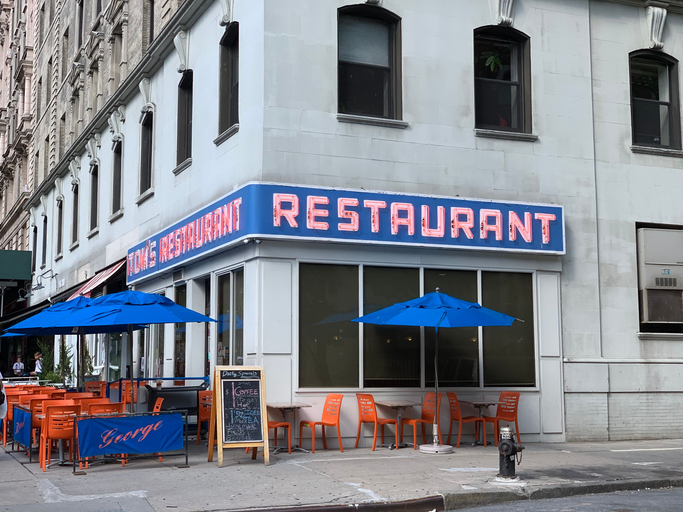 Sarah's Picks
Kramer is the loveable oddball living next door to Jerry. Because he is on strike from the bagel shop where he works during the series, he has a lot of time on his hands and often finds himself in interesting situations. In one episode he offers to take boudoir photos of George, and we hear a generic model beat playing. I'm too Sexy by Right Said Fred would have fit perfectly in this episode. Another time Kramer borrows the "technicolor dreamcoat" from a local theater production and finds an extravagant hat on the street. While walking, he is mistaken for a pimp, and Big Pimpin' by Jay-Z would have been a good choice for this scene.
There are some fun movie-scene recreations involving Kramer. In one episode, Kramer is seen leaping over buildings in a recreation of a scene from In the Line of Fire. In another episode, Kramer becomes a godfather to one of Jerry's friends' children. The scene plays out like one from The Godfather III. Kramer gets caught up by the police again, this time after a faux mugging, where the dialog from a scene in Marathon Man is used.
RL's Picks
Wayne Knight is a versatile character actor known for his memorable roles in both film and television. One of Knight's most iconic roles is that of Newman, Jerry Seinfeld's nemesis on the legendary show Seinfeld. Newman's exaggerated personality, sneaky demeanor, and hilarious interactions with the other characters made him a fan favorite. Let's celebrate Newman by enjoying Wayne Knight's talent in his other roles, we'll call this celebration NEWMANIA!
Jurassic Park - Knight plays a conniving computer programmer who tries to steal dinosaur embryos from the park. Watch out for that dinosaur, Newman!
3rd Rock from the Sun - Knight had a recurring role as Officer Don in this sitcom. Newman dates an alien!
Toy Story 2 - Al, voiced by Wayne Knight, is the greedy owner of Al's Toy Barn and a collector with a valuable toy collection. Newman steals Woody!
Space Jam - Knight played the role of Stan Podolak, Michael Jordan's trainer who helps the Looney Tunes in their basketball game against the Monstars. Newman is so loyal to Michael Jordan!
Rat Race - Wayne Knight plays a medical courier on his way to deliver a heart when he loses it after picking up Rowan Atkinson's character. Newman tries to steal Mr. Bean's heart!
The TV show Seinfeld revolutionized television in many ways and influenced many shows that came after it.
Several of these shows were directly influenced by Seinfeld's tone, setting and characters (sometimes produced by Seinfeld alumni). These are also all pretty good too!Seinfeld creator, Larry David, took the acerbic humor of Seinfeld a step further with his HBO show, Curb Your Enthusiasm.  A show that probably could not exist without the success of Seinfeld.
Friends - When it came out, Jerry Seinfeld said Friends was, "our show with better looking people." The urban setting with young single people who have a lot of time to talk about stuff in coffee shops seems very familiar to Seinfeld fans  Friends, of course, developed quite a separate following though.
Jeff Schaffer, who wrote and produced Seinfeld, created The League about a group of friends in a fantasy football league.  Watching the eccentric characters and the way they approach problems definitely feels Seinfeld like.
One of the innovations of Seinfeld as a sitcom is that it featured characters who were flawed to the point of being pretty immoral at times.  This is a character trait shared by almost everyone in It's Always Sunny in Philadelphia.  The first few seasons especially feel Seinfeld like although later seasons feel more distant.
Similarly, the selfish and self destructive Jimmy and Gretchen of the show, You're the Worst, seem directly descended from the Seinfeld characters---only much more so.  The show manages both to mock romantic comedies and also actually be one.
The oddities of city life, the non-stop rapid talks/jokes, although Spaced is not the most obvious Seinfeld type of show, it definitely shows the influences.  It also started the Simon Pegg/Edgar Wright partnership which would lead to Shawn of the Dead and other great comedy films.
Movies & Music - Question of the Week
Which actor from Seinfeld's main cast was the first to be inducted into the Television Academy Hall of Fame?
Last Week's Trivia Answer: Howard Ashman