Every week each of our Movies and Music Library Team will be bringing you the best of what we're watching and listening to so you can enjoy it too.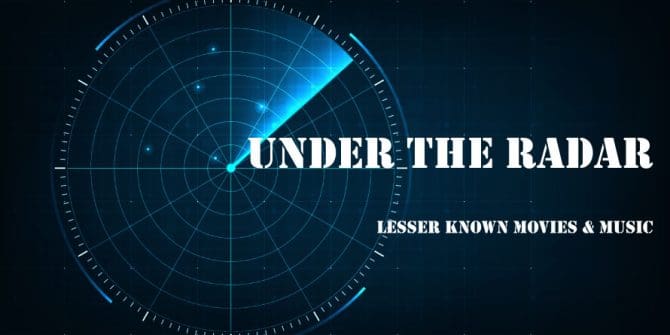 Taking this week's theme literally, I'd like to share one of my favorite music magazines and blogs, Under the Radar. I read this site and I swear, the content and features are tailor-made for me and my music tastes. You can check it out online here and through SCCLD.
Next up is the band Midlake. Midlake formed in Denton, Texas in 1999 and have released five albums. So "under the radar" are they that SCCLD does not carry a single one of their releases. Sad. My favorite of theirs by far is the concept album the Trials of Van Occupanther. What the concept is, I couldn't really tell you, but it evokes a pastoral, 70s West Coast Rock vibe and a strong sense of satisfaction, akin to what you might feel after a long, hard day of work. There are few albums for me that I find to be perfect, but the Trials of Van Occupanther is one of them.
Midlake is signed to the Bella Union record label. You'd do well to listen to all the bands they represent, if "under the radar" is your thing.
Jazz originated in New Orleans, Louisiana in the second half of the 19th century. Being a port city, there was music heard from all over the world. New Orleans was the only place in America that allowed slaves to own drums. Field chants emerged, then church hymns, slave songs and a Cuban-style rhythm was emerging as well. In the 1920's, a jazz age emerged, and from there jazz has continued to change, adapt not only in the songs, but in the instruments as well. Women emerged at this time, not just as singers of jazz, but as musicians as well. This playlist on Alexander Street is just a small sampling of assorted musicians of jazz, different styles of jazz, and in some cases non-traditional instruments of jazz.
Debra's Picks
I waited about 30 years for My 20th Century to come out on dvd. I first saw this visually beautiful and quirky Hungarian movie in the theater and found it really fascinating. It's in black and white and is utterly wonderful! Available on Kanopy and dvd/bluray.
Sita Sings the Blues was never in theaters. It's one of my favorite films of all time. If you like Betty Boop-style cartoons, the Ramayana, 1920's jazz (Annette Hanshaw), classical Indian music, Indonesian shadow puppets, super creative animation - or even just one of these things, you have to see this movie. Like Roger Ebert, you will be "enchanted, swept away, smiling from one end of the film to the other." And it was all done by one woman, Nina Paley. Available on Kanopy, dvd and free on youtube.
The Kingmaker is a documentary about former first lady of the Philippines, Imelda Marcos. There's a lot more here than the infamous 3000 pairs of shoes. I didn't realize that she and her family are back in the Philippines, wielding influence with close ties to Duterte, and her son currently is a presidential candidate. The body of exiled Ferdinand Marcos was flown from Hawaii back to Manila where he received a hero's burial in 2016, and history is being re-written. Fascinating and disturbing.
Music that's really under the radar is usually introduced to me by my daughter. I downloaded these 2 songs by Ashe: I'm Fine and Moral of the Story.
We have some amazing resources available to you that may have been flying under your radar. It's time you tuned in to them. Did you know you could access thousands of classes in every discipline and on every subject imaginable for free, with your library card through our website sccld.org?
Universal Class gives you over 500 classes in video form on academic subjects, business topics, career, hobbies, technology and more.
Creativebug has over 1000 classes on creative pursuits of every kind from arts and crafts to home, food and garden.
LinkedIn Learning (formerly Lynda.com) is the place to go for Technology, software, career and business skills training. Of interest to Movie and Music blog readers: You can learn all about video production, audio recording and animation by taking classes here.
Kanopy is a resource of astounding depth. Of course you can stream excellent feature films and top-notch documentaries from here, but you also have access to The Great Courses classes with over 6000 classes and documentaries on a vast number of subjects. Check out the moviemaking documentaries like Great Directors and features on Martin Scorsese, Mike Nichols and Agnes Varda. There is in-depth music history like the 24 class series Music of the 20th Century. You will find focused works on musicians like Fela Kuti, Lightnin' Hopkins, Yoyo Ma and dozens more here as well. You can even find classes on how to play the piano or guitar.
Medici.tv has a formidable classical music focus and they also offer a range of other musical videos like the film about the great Argentine composer and tango master: Homage to Astor Piazzolla. I suggest you join jazz vocalist DeeDee Bridgewater as she explores her African roots on DeeDee Bridgewater: Motherland, then watch her in concert in DeeDee Bridgewater the Malian Project.
Explore these great resources. I know you'll like them and you don't even have to leave home to check them out.
At the last Grammy awards, Jon Batiste won 5 awards. During the course of her career, so far, Mariah Carey has won 5 Grammy awards. Winning multiple Grammys is a big deal and yet here are some multi Grammy award winners that you might not have heard of.
Lalah Hathaway: Despite 5 Grammy awards to her credit, being the daughter of R&B legend Donny Hathaway and mastering a the difficult multiphonic technique of singing, Hathaway is not as well known as she should be. Any of her albums are worth your time, but I particularly love her Grammy winning, Lalah Hathaway Live that shows off her musical virtuosity in a series of remarkable performances.
Snarky Puppy: What is Snarky Puppy? Not quite an orchestra, more like an instrumental ensemble that plays rock, pop and jazz music. Along with their 4 Grammy awards, they have a remarkable record of working with Hathaway, David Crosby, Metropole Orkest, and others that shows their mastery of styles. All of their work is eclectic and engaging but their Grammy winning Culcha Vulcha is a delight from beginning to end.
Jacob Collier: 5 time Grammy winner, Jacob Collier is a musician who uses looping vocals and layered arrangements and, while he collaborates with other musicians, he is often the only musician featured in his multi instrumental arrangements. My favorite album by Collier is still his debut, In My Room, where he plays every instrument.
P.J. Morton: A lot of people know Morton as a keyboardist for the band Maroon 5, however in his solo career he has amassed 4 Grammy awards, one more than Maroon 5's 3 Grammys. His solo work is very soul and R&B driven and is very independent of his higher profile career. His Grammy winning Paul is excellent with his winning R&B songwriting on "Say So" a highlight.
The music of reggae artist Koffee is as addictive as her name. In a male-dominated genre where legends and longtime heavyweights continue to rule, it's difficult for newcomers to break out. But Koffee does so easily thanks to her youth, wisdom beyond her years, poetic flow, honesty and humility, and powerful but poised energy. These dynamic traits, as well as her enormously talented band, are on glorious display at her NPR Music Tiny Desk Concert. Koffee won a Grammy for Best Reggae Album for 2019's Rapture, the youngest person (at 19 years old) and only female to be awarded in that category. Check out Koffee's newly released and aptly titled album Gifted, which includes the infectious dancehall track "Pull Up". Pull up and grab yourself a cup!
Movies & Music - Question of the Week
Which of the following is NOT the name of a lesser known (not BTS or BLACKPINK) k-pop group?
Last Week's Trivia Answer: Mad Max: Fury Road (2015)