The Tech Interactive Museum is closed for Maintenance until September 2nd and active reservations will be cancelled during that time. 
---
Discover & Go
is a virtual museum pass program for Santa Clara County Library District cardholders that offers library patrons the ability to reserve admission passes to more than 50 museums and cultural attractions throughout the greater Bay Area.
Age Limit: Minimum age to reserve a pass is 18.
Residency requirements:

You must live within the library's service area in order to log in and reserve passes. The site is set up to track a user's zip code. If you do not qualify to reserve a pass because your zip code is not in the library's jurisdiction, we recommend that you try your home library (within your zip code) since many local library systems offer Discover & Go.

Santa Clara County Library District service areas include Campbell, Cupertino, Gilroy, Los Altos and Los Altos Hills, Milpitas, Monte Sereno, Morgan Hill, Saratoga, and all unincorporated areas of Santa Clara County.

To view all current free offerings, please use the "Discover & Go" button below and then sign in with your card number. Next, use the "All Attractions" link to see which venues currently participate in Discover & Go.

We advise that if you plan on reserving additional passes for additional family members with the venue directly, please be sure to check that they offer enough passes before reserving your free/discounted pass with Discover & Go.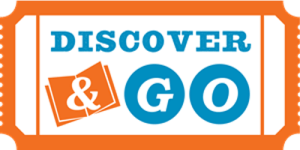 , opens a new window
Using Discover & Go
Reserving passes: You can have two active reservations at a time. The pass is non-transferable and only for use by the person who made the reservation for date specified.
Cancelling passes: Reserved passes can be cancelled as long as they have not been downloaded or printed. We recommend waiting to download/print your passes until you are ready to use them, in case you need to cancel a pass. Cancelled passes will not count towards your limit.
Unused passes not cancelled: If you reserve a pass and do not use it or cancel the reservation, the unused pass will count towards your limit until it expires.
International languages: Google Translate is now available on Discover & Go, so you may be able to set labels and descriptions in a language of your choice.
Printed passes and Mobile passes: Most attractions will require that users print their passes in order for the venue to collect the printed passes. The information will be provided on the attraction's page. If an attraction requires a printed pass, mobile passes will not be accepted.

​Please note, a valid identification is required on the day of your visit.

Geolocation: Under Map View, you have the option to provide your current location so the site can display attractions nearby.
Searching for attractions: You can search by attractions or locations. In addition, you can apply the filter that lets you search for 3 types of passes:

Free passes
Discounted passes
Mobile passes accepted

Email reminders: You will receive 3 email notifications once a reservation is made. This includes:

Confirmation email
Reminder email
Survey email after visit

Release of new museum passes: Passes are available 3 months in advance. That includes current month plus 2 additional months. Passes are released at 12 am on the first of each month.
Replacement library cards: If you were issued a new library card and you need to transfer your current reservation to your new card, please contact support. Be sure to include your old library card number, your new library card number, and your email address. You can also ask for assistance at the Accounts Desk.
If you have further questions, look at these Discover & Go FAQs, opens a new window.