Every week each of our Movies and Music Library Team will be bringing you the best of what we're watching and listening to so you can enjoy it too.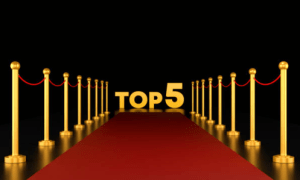 My Five Favorite Nature Videos
Kedi : The Cats of an Ancient City - There are hundreds of cats that roam Istanbul freely, and they have been doing this for thousands of years The people of Istanbul live amongst them and care for them with food, shelter and medical aid. It's wonderful to watch these cats as they make their way through the city. They enter businesses for a nap, a bit to eat, or more importantly, a cuddle with their loving caretakers. Winner of the Best First Documentary and nominated for Best Documentary at the Critics' Choice Documentary Award.
Ground Swell : Epic Stories of Monster Waves - I love watching surfing, especially at Mavericks, but the last few years the Mavericks Big Wave Invitational hasn't been able to go on, either due to wave condition, or more recently the pandemic. Here is a thrilling video from the 2020-21 big wave season, from around the globe. Seeing those wonderous waves is amazing, but listening to the dramatic stories from the surfers that ride those massive monsters is inspiring. Oh, Mavericks is back! The new season begins November 2022!
We Don't Deserve Dogs - Full disclosure, I'm more of a cat person, but there are times, where a dog is needed. A dog can give you their undivided attention and love at just the right moment. In this documentary you will see how dogs influence our lives. Former Ugandan child soldiers were helped back into the real world with the help of dogs. People need dogs, and dogs may need us, but do we deserve the love they extend to us. This film will answer that question.
Intelligent Trees – This is a documentary based on the book The Hidden Life of Trees by Peter Wohlleben and Suzanne Simard. From the book I learned that trees can talk with one another, and they care for their young. This film features the main observations from the book, where you will learn of a tree stump that has been kept alive by its neighboring trees. Old tree-couples look after each other and the Mother Trees suckle their offspring. An amazing documentary that will change the way you think of trees, and of forests.
Charlie and the Curious Otters – What's a nature documentary list without some film of otters? Otters are playful, adaptable and champion swimmers. They have captivated cameraman Charlie Hamilton James for the last 25 years. Watch as he films three orphaned river otters as they learn are taught how to thrive and eventually be released into the wild.
My Music Top 5 (in no particular order)
Most people would not peg me as a metal fan, but I have a deep, long running, definite metal streak. Without further ado, here are my Top 5 Metal Albums!
RL's Picks
My Top 5 Jokers
1) Mark Hamill in Batman. The Complete Animated Series and Batman. The Killing Joke.
2) Jack Nicholson in Batman.
3) Heath Ledger in The Dark Knight.
4) Zach Galifianakis in The LEGO Batman Movie.
5) Cesar Romero in Batman. The Complete Television Series and Batman: The Movie.
Debra's Picks
Music:
Bach: Brandenburg concertos on cd and streaming on medici.tv
The Vivaldi Album: Cecilia Bartoli Here is an example of this coloratura's amazing vocal acrobatics.
Threepenny Opera (it's a musical, not an opera) in English or the original German. Here is the Moritat von Meckie Messer (Mack the Knife) sung by Ute Lemper. And here is the best English translation and rendition of Mack the Knife from the NY Shakespeare Festival production, preceded by the unusual overture which includes a fugue.
Beethoven: Symphonies 1-9 especially the 4th movement of the 5th symphony.
Movies:
Cinema Paradiso because I saw it with my father and we cried together, and the soundtrack.
Modern Times because of the roller-skating scene and "Smile", the song Chaplin wrote for the film, made famous by Nat King Cole, and the nonsense song. Really all the Chaplin films because even my young kids and non-English speaking friends love them and we can watch them over and over.
Bringing Up Baby because I saw it (in the theater) with my best friend and we laughed so hard.
Do the Right Thing because it introduced me to the films of Spike Lee.
Pulp Fiction because it introduced me to the films of Quentin Tarantino.
Because I love telling people my favorites, these are my top 5 albums and films that bring me the most satisfaction to listen to over and over again!
5. Fine Line by Harry Styles - This is the newest album on the list and I almost didn't include it because it is only three years old. However, the album is bursting with so much musical invention and open heartedness it is the listen that I keep coming back to over and over again. The songs are stunning, the opening, surging production of "Golden" giving away to Styles confident delivery, that is as golden as the title of the song, is a smashing first track it builds the anticipation to the musical feast that follows.  This leads to the biggest hit, "Watermelon Sugar" with its irresistible hook and then on to equally wonderful songs which all deal with connections between people. The album's warmth and charm never fail to move me. It heralds an amazing talent coming into his own.
4. Born to Run by Bruce Springsteen - My first Bruce Springsteen album was Born in the USA which I bought on vinyl and wore out with repeated listens. However, the album that I find myself coming back to as I get older is his earlier release, Born to Run. It's full of desperate people just itching to get out of the situations they're stuck in. The exhilarating thrill of the title track is tempered by sadness and experience, the exhilaration of Clarence Clemon's sax on "Tenth Avenue Freeze Out", the lonely beauty of "Meeting Across the River" leads to the crime epic, "Jungleland.'" They're all stunners and the album tells a powerful story that I can't get enough of.
3. Fulfillingness' First Finale by Stevie Wonder - From the gorgeous, wordless chorus of "Smile Please" to the sensational "Boogie on Reggae Woman", the powerfully soulful "They Won't Go When I Go" to the finale of "Please Don't Go", on every song of this incredible album, Stevie Wonder is writing (and singing) at a remarkable level. Everything works together. While his Songs in the Key of Life is more ambitious and gets more attention, the effortlessness of Stevie Wonder's ability astounds me on this album. He is achieving perfection and he makes it look easy.
2. Bridge Over Troubled Water by Simon and Garfunkel - One of the great pop achievements of its era. While this duo was starting to fall apart during the development of this album, they never worked or sounded better together. Art Garfunkel's almost ethereally beautiful vocals open the title song in a sublime way and the album moves on matching the excellence of the first song. It all works; from the bawdy humor of "Cecilia" to the haunting "The Boxer" to the final simplicity of "The Song for the Asking", every song feels like it is an exactly the right spot to capture a time and place fully in ts beauty and its brutality.
1. Ella Fitzgerald and Louis Armstrong by Ella Fitzgerald and Louis Armstrong - This 1956 album is the beginning of one of the greatest of all musical partnerships. Ella Fitzgerald, at the absolute peak of her vocal powers and the incomparable Louis Armstrong, who offers his unique vocals as well as his incredible trumpet solos. His friendly gruffness and her effortless warmth paired with their peerless musicianship make this album a wall to wall joy to listen to. They play with great musical standards like the perfect opener, "Can't We Be Friends", the lovely, bluesy "Isn't this a Lovely Day?" and on and on, one perfect rendition of a classic after another. They are backed by an incredible quartet of musicians who must all be named; Oscar Peterson, Buddy Rich, Herb Ellis and Ray Brown all jazz legends in their own right. Fitzgerald and Armstrong would go on to record two more albums, each also wonderful but this set is tough to beat.
Top 5 Films
5. The Godfather Part II - Of course, this film can't exist without The Godfather, so I'm claiming two films here however I have always loved Part II slightly more. The textures seem deeper somehow. The dark romanticism of the young Vito Corleone's adventures giving way to bleak situation faced by his son, Michael in the later sections is so incredibly powerful and somehow these bookends to the original film not only complement each other but make me appreciate The Godfather that much more. An incredible achievement in film where each frame looks so gorgeous and yet this is a boisterously living accomplishment that never feels inert. This is one of the films that made me fall in love with films.
4. Days of Heaven - I never saw anything like the poetic and beautiful, Days of Heaven before. The story is a simple love triangle between a pair of migrant farm workers (Richard Gere and Brook Adams) trying to scam a dying rich man and getting caught in their own deception. With a narration that's both metaphoric and pragmatic by the wonderful Linda Manz, and some of the most gorgeous cinematography ever committed to film makes for a truly unique cinematic experience. I have watched all these top 5 films with a variety of people and this is my most divisive choice, not everyone likes it in fact, my favorite film critic, Pauline Kael dismissed the movie as "an empty Christmas tree." Despite this rejection, the film persists in my memory above most others.
3. The Lady Eve - Has Preston Sturges ever written at a higher level, has Barbara Stanwyck ever been funnier and looked lovelier and has Henry Fonda's solemness ever made him so wonderfully ridiculous than in this masterpiece of romantic comedy? My answer, would be NO, none of them have ever been better than they are here. This amazing comedy of father/daughter con artists duping a rich but hapless young man (more than once!!) has an altogether happier outcome than the outcome for the lovers in Days of Heaven.
2. All About Eve - When people ask me, "What was so special about, Bette Davis?" I first get really angry...but then I ask them to watch All About Eve. This film, which was nominated for a record, 14 Academy Awards (winning six), boasts two of my favorite film performances of all time. Bette Davis dominates the film as Margo Channing, a great Broadway actress and star, feeling the stresses of a long term career and George Sanders as Addison DeWitt, a viper of a newspaper columnist. The film is about the rivalry between Davis and an up and coming actress, Eve (played by Anne Baxter) who is more than she seems and who we find all about. The film is awash in great scenes and funny, probing lines. It's a treat I can watch over and over again.
1. Trouble in Paradise - A shining diamond of a comedy. It manages to set up expectations of grand romance ("I want the moon in the champagne") and both subvert and fulfill them simultaneously. A pair of lovers meeting for an evening tryst are revealed to be a pair of thieves stealing from each other but they fall in love anyway. It's the first of many magical switcheroos that the film easily pulls off. What makes the film feel modern is its easy way with seduction, romance and morality. It breezes through all of this with a sophisticated wit that never flags. For me it's almost like watching a tightrope walk. I keep waiting for the film to misstep and plunge earthwards but it never does. Each plot development and beautiful image manages to sustain the incredible tone. It is director Ernst Lubitsch's masterpiece (although I also love The Shop Around the Corner).
Juan's Picks
I find that there are times in my life in which I am highly receptive to a particular message waiting to be uncovered in a familiar piece of music, book, film, or other artistic work. It is in these moments of serendipity that I happen to hear what I needed to hear, read what needed to be read, see what needed to be seen, and discover the ability to think about a familiar problem in a new more constructive fashion. The following list of my top five albums contain music that is integral to my sense of self. Many of them are through the lens of a trumpet playing; however, that is only one of the many reasons I enjoy engaging with these works.
Café Colón is a personal favorite. However, I believe this particular album to be an amalgamation of previously released music in the Mariachi Vargas de Tecalitlan repertoire. Many of the tracks can be found elsewhere in other albums. Regardless, it is a lovely collection of old recordings featuring Miguel Martínez Domínguez on trumpet. As the first trumpet to successfully integrate into the previously strings-only Mariachi Vargas de Tecalitlan, his style and mellifluous interpretations set the precedent for how the trumpet should be played in mariachi music. These seminal works are the early foundations for what mariachi music has become today.
El Cantinero by José Alfredo Jiménez is widely considered to be an album every mariachi trumpet player should study closely to develop an ear for how to best interpret first and second voicings. Mariachi Vargas trumpet players Cipriano Silva and Crescencio Hernández set a standard for how the first and second trumpet should balance technical aspects such as dynamics, vibrato, and phrasings. The song "El Rey" continues to be a highly requested song, making it a must-have in every mariachi musician's repertoire. The other songs are a bit more obscure yet also requested with some frequency. The cultural significance of this album and the musical legacy contained herein are certainly a part of this album's allure.
Sones de Jalisco by Mariachi Vargas de Tecalitlan is one of many consequential albums in their discography. The album was originally released in 1965 yet it continues to be widely available for purchase which speaks to its continued popularity. Due to a lack of access to formal musical education and the lack of sheet music for this genre of music, many mariachi musicians during that era learned repertoire by ear. Many continue to advocate that such traditions should not be lost in the current and future generations of mariachi musicians. This album features stellar interpretations of sones Jalicienses which many generations of mariachi musicians will continue to listen to and appreciate, myself included.
Dawn FM is an album that I enjoy listening to in its entirety. The tracks flow nicely in the album's original order and seem to be in conversation with one another, adding complexity to the work as a whole. Some of the transitions are so seamless you might think you are listening to one long and uninterrupted song without realizing a different track started playing. I love this attention to detail and the effect it creates throughout the work. The listener is invited to ruminate upon topics that seem simultaneously universal and deeply personal. These topics encompass questions about death, perceptions of reality, moral ambiguity, and more. It is as much a self-examination as it is an outward look at societal issues, particularly with the track "A Tale by Quincy."
For Musicians Only is an entire album said to have been recorded in a single take. As one of its most influential exponents, Dizzy's trumpet playing is truly a marvel to listen to. Further, the bebop style is front and center throughout this album, showcasing virtuosic talent by Sonny Stitt, Stan Getz, John Lewis, Herb Ellis, Ray Brown, Stan Levey, and Dizzy Gillespie on their respective instruments. My favorite piece is "Lover Come Back to Me" which is wholly distinct from other recordings of the same name. There is always something interesting and exciting to focus on no matter how many times I listen to these albums.
 Diane's Picks
Top 5 in 5: Recent-ish Films
Here are the top 5 movies that I watched within the last 5 years that left me with a lasting impression. Although they are all very different, each one took me by surprise at how much I enjoyed them. (Though I rarely rewatch films more than once, I've rewatched most of these, so that says something!)
1. Emma
2. Faces Places
4. Big Sick
5. Belfast
Alton Brown has hosted several cooking shows including Good Eats (which you can enjoy from the library) and Iron Chef America. He has also embarked on several popular and humorous tours.
Ming Tsai, like Martin Yan, has been hosting his show on PBS for years. In fact, Simply Ming is their longest-running cooking show. You can watch seasons 1 and 2, season 17, and season 18 on Kanopy. The library also has a couple of DVDs, Simply Ming and Simply Ming. Cooking with Friends & Family, if you're not in the mood for streaming.
Though not given much screen time, Racacoonie the real chef in his universe, helping Chad fake a talent for cooking at the restaurant he works at. Everything Everywhere All At Once is available at the library.
Jiro Dreams of Sushi made a splash when it first came out and is worth revisiting over a decade later (or a first watch if you've never seen it). Jiro Ono continues to make sushi for customers to his restaurant in Ginza to this day. Available at the library and on Kanopy.
Top 5 Best Children's Songs for Bubble Play
Presenting library storytime week after week, month after month, year after year has keyed me into the most crowd-pleasing children's music. Peanut Butter & Jelly from the album Fun and Games by Greg & Steve is practically required at every Morgan Hill Storytime, for instance.
Beyond the fan favorite songs there is also a fan favorite activity - chasing after, trying to pop, and playfully running away from bubbles. Based on the different songs I've played while walking through the audience with a bubble machine, these are the Top 5 Best Children's Songs for Bubble Play:
Give 'em a try the next time you're looking to have an extra fun bubble party!
Movies & Music Question of the Week
These are our Top 5 Movies and Music selections. What are yours?
Last Week's Trivia Answer: Figaro