Every week each of our Movies and Music Library Team will be bringing you the best of what we're watching and listening to so you can enjoy it too.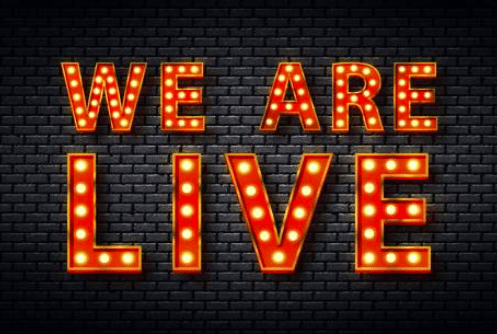 Lively Up Yourself!
The last couple of years have left me craving the live music concert experience. Luckily, your library has some great live recordings to tide us all over until we can attend live shows in-person. Below are a few recommendations, but rest assured you can find many more artists, styles and genres of concert recordings in our collection – from Classical to Rap, and Adele to Zappa.
Go time traveling with some classic concert films. The jazz world gives us Thelonious Monk: Straight No Chaser; John Coltrane: Live in France; Ella Fitzgerald: Live in '57 & '63, and Miles Davis: Live in Munich.
The granddaddy of all rock concerts does not disappoint: Woodstock: the Director's Cut has hours of classic rock and The Complete Monterey Pop Festival has some incredible performances including Jimi Hendrix, The Who, The Byrds, Ravi Shankar, Hugh Masekela and Otis Redding. You can get more Otis, along with Sam & Dave, and Booker T & the M.G.s on the Stax/Volt Revue DVD recorded live in Norway in 1967. Wattstax is the 1972 concert film to check out for Isaac Hayes, The Staple Singers, Albert King and more.
In 1984 Jonathan Demme and Talking Heads gave us the wonderful concert movie Stop Making Sense (the BluRay includes a couple of songs not included on the original release.) The 1999 concert honoring Roy Orbison, Black & White Night, features Roy and friends like Bonnie Raitt, Tom Waits, Jackson Browne and Bruce Springsteen.
A few international artists' films to check out include Benda Bilili: Look Beyond Appearances; Celia Cruz & Fania All Stars in Africa; Selena Live: The Last Concert; Buena Vista Social Club; and Gipsy Kings: Live.
We also have many live albums on CD. An all-time favorite of mine is Babylon By Bus by Bob Marley- great songs, passionately performed and ending with well-deserved applause. Now that's live!
Debra's Picks
If you love to watch live performance, you are in luck! You can access wonderful concert videos of classical, jazz, ballet and opera on Medici.tv and the library has many dvds and blurays as well.
Some of my favorites on Medici.tv are:
Bejart's Bolero, music by Ravel: with a brilliant performance by ballet dancer Maya Plisetskaya
L'Allegro, il Penseroso ed il Moderato by Mark Morris, music by Handel
Lorca Massine's Parade and Pulcinella: music by Satie and Stravinsky, sets and costumes by Pablo Picasso in Pompeii's Grand Theater
Rossini's Il Barbiere di Siviglia: 2016 Glyndebourne
and many festivals, like the Leonard Bernstein Centennial Celebration at Tanglewood with Yo-Yo Ma, Midori, Thomas Hampson, Michael Tilson-Thomas and so many others.
Some favorite live performance dvds and blurays:
Twelfth Night: an authentic all-male production at London's Shakespeare's Globe. I saw this at the movie theater and it was sensational. Mark Rylance is amazing.
Candide: Leonard Bernstein's musical comedy in a semi-staged performance made-for-television, with Kristen Chenowith and Patti Lupone.
Oklahoma!: by the National Theater of London: with Hugh Jackman
Simon and Garfunkel: the Concert in Central Park
and all of the Metropolitan Live in HD videos, including Porgy and Bess, which will be arriving at SCCLD soon. The cd is already here.
RL's Picks
Be amazed by The Mars Volta and The Red Hot Chili Peppers (my favorite bands) live at Coachella. You can also watch The Red Hot Chili Peppers performing at their Rock & Roll Hall of Fame induction and listen to The Mars Volta's live album, Scabdates. For more live Red Hot Chili Peppers, listen to them close out Woodstock 99 with their cover of Jimi Hendrix's Fire.
If you prefer electronic music, then you can't go wrong with Daft Punk's Alive 2007.
For this theme, I thought I would talk about some of my favorite live albums. And a favorite live performance that you can watch on YouTube!
First off, we have I Might Be Wrong: Live Recordings by Radiohead. There is a lot of energy in these songs, and is worth it just to hear the crowd swell when "Idioteque" goes crazy. There is also a lovely recording of "Like Spinning Plates" and, until 2016, the only released recording of fan favorite "True Love Waits."
Next up is We All Raise Our Voices to the Air (Live Songs 04.11 - 08.11) by The Decemberists. I've seen this band live a few times and they put on a great show. The highlights of this recording are the 12+ minute of "The Mariner's Revenge Song" and the performances of "Rise to Me" and "Grace Cathedral Hill," which are two of my most-loved songs by The Decemberists.
The last live album I want to mention The National's Boxer Live in Brussels. The musicianship is super-tight on this one, and the commentary from the band between songs is charming and highlights the great rapport they have. My favorites from this recording are "Apartment Story," Racing Like a Pro," and "Slow Show," which I feel is one of the greatest love songs ever written.
Last but not least, do yourself a favor and watch indie rock band Future Islands' NPR concert from May of 2014. The music is great and lead singer Samuel Herring's performance and the sheer, unadulterated passion and joy he injects into the music is captivating, humbling, and just plain awesome. Oh, to be so free. You can thank me later.
Movies & Music - Question of the Week
In what year did the Coachella Valley Music & Arts Festival start?
Last Week's Trivia Answer: Cherry Garcia