Every week each of our Movies and Music Library Team will be bringing you the best of what we're watching and listening to so you can enjoy it too.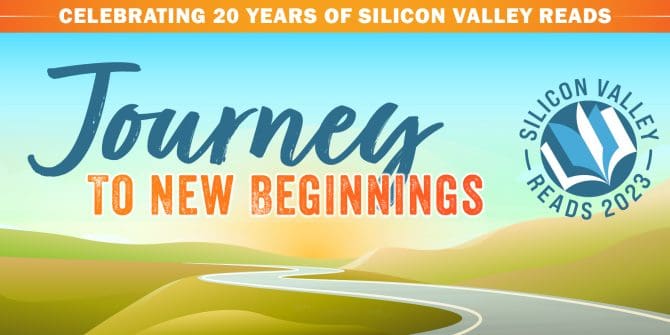 Here I Go Again, by Whitesnake- For anyone feeling alone while forging a new path.
Attraversiamo, by Dario Marianelli- An instrumental from the Eat Pray Love movie soundtrack.
Beyond the Blue, by Beth Nielsen Chapman- A beautiful song featured in several movies and covered by other artists, but this is the original!
Go the Distance, by Michael Bolton- Featured in the Disney animated movie, Hercules.
Movies about journeys and self discovery:
The Pursuit of Happyness- Will Smith plays a single father struggling to start a new career and care for his son at the same time.
Life of Pi- A young boy in India finds himself aboard a boat with wild animals from his family's Zoo after a disaster.
Chocolat- Juliette Binoche plays a single mother opening a chocolate shop in the middle of Lent, to the delight and dismay of the townspeople.
The Land Before Time- A children's classic for 80s and 90s kids! Baby dinosaurs get separated from their parents, ending in an epic reunion.
Legally Blonde- Reese Witherspoon plays Elle Woods, an underestimated ex who sets out to prove herself and take control of her life.
Coming to America- Eddie Murphy plays an African prince searching for love away from the watchful eyes of his parents in this hilarious tale.
Debra's Picks
Brooklyn: I didn't expect to love this movie as much as I did. I found it to be very realistic in depicting all the conflicting feelings experienced by this reserved Irish girl on leaving her home for a new place and a new life: fear, excitement, homesickness and loneliness, growth and blossoming. On returning home to care for her mother after the death of her sister, we totally understand the pull of home she feels and her struggle as she grows to love a young Irish man, but still loves and misses her Italian-American husband back in Brooklyn. The soundtrack is also available.
The Visitor: This is a quiet drama of change and renewal. Walter is a college professor in Connecticut who has lost his passion for writing, teaching and life in general after the death of his wife. When he goes to New York for a conference, he discovers that a young couple has moved into his rarely-used apartment. Due to a mix-up, Syrian illegal immigrant Tarek and his Senegalese girlfriend now find themselves homeless and Walter eventually invites them to stay with him. To pay Walter back for his kindness, Tarek, who is a musician, gives Walter lessons on the African drum. This revitalizes Walter's spirits as he begins to enjoy going to jazz clubs and drum circles. When Tarek is threatened with deportation, Walter's passion for life is reawakened as he tries to help his new friend. Also on DVD.
Two excellent documentaries about migration are Human Flow (dvd) by the artist Ai Weiwei, a visual representation of the 65 million people who have been displaced from their home by various forces. It's a testament to the human spirit as they journey from dislocation to adaptation and a new future. The other is Winged Migration, a magical and spectacular film that will leave you awe-struck as you follow bird migrations over 7 continents. Teams of 450 people, 17 pilots and 14 cinematographers used planes, gliders, helicopters and balloons to fly alongside, above, below and in front of the birds. The soundtrack is also available.
New Beginnings are brought about by many reasons. A desire to escape a hard life, the will to go on from tragedy, or it can simply be brought about by determination. You can be pushed to find a better life, to administer aid to a dying family member, or to understand a family members hesitancy to embrace your dream.
Bicycle Thieves Also known as The Bicycle Thief. Here is Vittorio De Sica's Academy Award winning film of 1948. Filmed in post war Italy, this is a stark realistic journey of a man on his first day of work. His bicycle, needed for work is stolen, and we watch as he and his son scour Rome, trying to find the stolen bike. A beautiful, brutal honest portrayal of the struggles that may occur while trying to start a journey to a new beginning.
Kanopy
The Farewell A funny and heartfelt story of a family returning to China in the guise of going to a wedding, when they are really there to say goodbye to the family's matriarch. Their beloved mother and grandmother is not aware that she has but weeks to live. Based in part on director Lulu Wang's life experiences. Uplifting, tearful, this film will remind you to pay attention to those that you love, and always have hope.
Kanopy
Coco Despite his family's generations-old ban on music, young Miguel dreams of becoming an accomplished musician like his idol Ernesto de la Cruz. Desperate to prove his talent, Miguel finds himself in the stunning and colorful Land of the Dead. After meeting a charming trickster named Héctor, the two new friends embark on an extraordinary journey to unlock the real story behind Miguel's family history.
Bibliocommons
Juan's Picks
Many stories that emerge from human diaspora include personal tales of struggle, hope, and new beginnings. While every individual story is unique, the immigrant experience can generally be interpretated as a literal journey to new beginnings on a variety of levels—a premise which fits with our theme for this week as well as the Silicon Valley Reads theme. Consider Los Tigres del Norte, a local San Jose group with a robust international following which has grown in part due to their success producing some of the most highly acclaimed songs that offer an intimate exploration of the immigrant experience. As a group composed of naturalized citizens, their music carries a degree of authenticity that would be hard to achieve if they did not leverage their experience. For example, Mis Dos Patrias, begins with a naturalization ceremony to represent the distinct cultures that are perpetually being blended into a single identity. Naturalization itself, they argue, doesn't necessarily represent an end to the immigrant's journey but rather a new beginning to a larger journey which attempts to reconcile the friction between self-identity and self-acceptance and how mainstream society chooses to perceive and (de)value immigrants. Therefore, in the process of integrating to an adopted homeland, immigrants must often face new and evolving challenges which encapsulates the never-ending journey of self-actualization.
We invite you to check our catalog for the opportunity to find you next great book, album, film, or idea that will set you on your own journey to new beginnings. I hope to see you at the library!
Diane's Picks
Here are some movies where a journey to a new beginning might take the shape of immigration to a new country or perhaps just an unexpected change in life circumstances.
THE CITIZEN
Ibrahim immigrates to America by winning a lottery to do so. He is lucky to get this rare opportunity, but his timing turns out not to be so lucky and he faces many challenges upon his arrival, and on the road to discovering what it means to be a citizen.
BROOKLYN
Saoirse Ronan is luminous as an Irish immigrant in the 1950's. Even though she embraces her new beginning, her heart is faced with a choice of whether to stay or return home to Ireland.
LUNANA: A YAK IN THE CLASSROOM
An aspiring singer from Bhutan dreams of starting over in Australia. But somehow ends up with a new beginning in an extremely remote village, a yak in his classroom, and a lesson he never expected.
EAST SIDE SUSHI
Juana is a young immigrant mother from Mexico who sets her sights on a fresh start with a dream of becoming a sushi chef. In this delightful little film, food can be life changing, who knew?!
BABY BOOM
A high-powered business woman's life is turned upside down by something very unexpected. She faces many challenges with changes she feels forced into, but also discovers there are some gifts in it too when she leans in. Ultimately she finds the win with a balance in her old life and new life. This is an old favorite film starring Diane Keaton.
Movies & Music - Question of the Week
Which of the following artists has NOT recorded a cover of Johnny Nash's 1972 song "I Can See Clearly Now"?
Gladys Knight & the Pips

0
Last Week's Trivia Answer:  Terminator Salvation