Every week each of our Movies and Music Library Team will be bringing you the best of what we're watching and listening to so you can enjoy it too.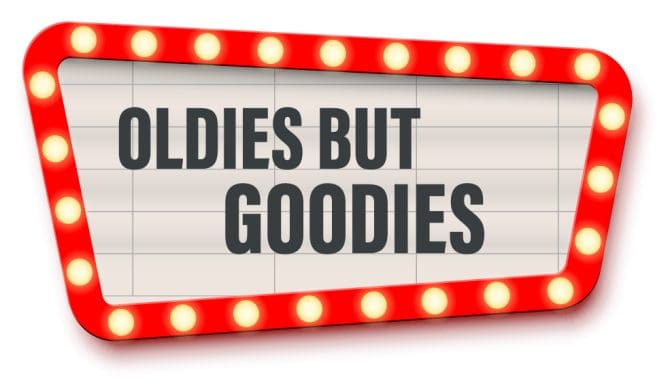 Diane's Picks
Get Back
This recently released documentary is an oldie in a different respect in that it takes place in 1969, and captures the Beatles in action as they work on songs together. The music they were working on in this film eventually became their Let it Be album. Travel back in time with John, Paul, George & Ringo and get a glimpse into an amazing moment in music history.
Sabrina
This Audrey Hepburn classic is a true delight. Oftentimes great classics get remade years later, as this one was with Harrison Ford, Greg Kinnear and Julia Ormond decades later. Both films are now oldies but goodies and worth watching. So you get two for the price of one here, Sabrina -original from 1954, and Sabrina- remake from 1995. Whatever you do though, don't miss the original.
Cat on a Hot Tin Roof
I learned the word "mendacity" from watching this movie many moons ago. This sizzling oldie reminds me of a time when movie stars were just that. I mean, Paul Newman and Elizabeth Taylor defined "hot" in this movie from 1958 based on the Tennessee Williams play.
The Isley Brothers are R&B royalty, and underrated at that, when you really consider the longevity and influence of this family band.
From "Shout" (1959) to "Livin' For the Love of You" (1975), "This Old Heart of Mine (Is Weak For You)" (1966) to "That Lady" (1973), their dynamite discography reveals a trendsetting musical style that has evolved seamlessly with the times but at its core maintains that sweet signature Isley sound.
An inspiration to musicians and music fans alike, "Twist and Shout" wasn't a hit song until the Isley Brothers put their spin on the track in 1962, inspiring that other cover you may know. And the so-funky-it's-not-even-funny "It's Your Thing" (1969) was famously covered by that other group of singing brothers.
The Isley Brothers are just cool, period.
Debra's Picks
I often think that they don't make comedies like they used to. Most of my favorite comedies are from times past. There are so many great ones, but many favorites are by one director, Billy Wilder:
Some Like it Hot (1959) with Marilyn Monroe, Tony Curtis and Jack Lemmon. On dvd/bluray. AFI lists it at #1 on 100 funniest movies in American cinema and I agree. He also made The Seven Year Itch with Marilyn Monroe which is pretty funny too.
Sunset Boulevard (1950) With Gloria Swanson, William Holden and Erich von Stroheim. This is a great black comedy film noir and the Swanson and Stroheim characters are actually sort of versions of themselves in real life, which is pretty weird. Although it's a satire on Hollywood, it was nominated for and won numerous awards. On dvd and bluray.
The Apartment (1960) is a poignant, subtle romantic comedy, starring Shirley Maclaine, Jack Lemmon and Fred MacMurray unlike the often silly (in my opinion) romcoms of today.
Wilder also made some of my favorite dramas:
Witness for the Prosecution (1957) with Charles Laughton, Tyrone Power and Marlene Dietrich. A fantastic legal mystery thriller with noir elements and a twist I didn't see coming.
Double Indemnity (1944) starring Barbara Stanwyck, Fred MacMurray and Edward G. Robinson is a classic noir, a tale of greed, murder and betrayal.
An amazing film that really stands out for me is one not by Billy Wilder. It's the only movie directed by actor Charles Laughton: The Night of the Hunter (1955). It's so strange and unique, combining elements of a fairy tale, nightmare, noir and German expressionism. There is no film like it and many directors cite it as the scariest movie they've ever seen. It's incredibly creepy and yet beautiful at the same time. Available on dvd.
And a favorite Hitchcock movie is Rear Window (1954). This sophisticated thriller has it all: suspense, mystery, romance and humor.
A lot of my favorite songs are also oldies - written before I was born. I especially like the standards by George Gershwin (Our Love is Here to Stay, Someone to Watch Over Me, Summertime, They Can't Take That Away from Me) available to stream on Freegal, and a few by Irving Berlin (What'll I Do?, Puttin' On the Ritz) also on Freegal. And I must give a shout out to Harold Arlen, whose name is not as celebrated, but who wrote the song that was voted the greatest of the 20th century in a joint survey by the National Endowment for the Arts and the Recording Industry Association of America, and was covered by just about everybody: Over the Rainbow. Harold Arlen: That Old Arlen Magic is streaming on Freegal.
RL's Picks
For maximum fun and listening pleasure, please enjoy while cruising in a low car at low speeds.
Crystal Blue Persuasion - Tommy James & The Shondells
Suavecito - Malo
Oogum Boogum - Brenton Wood
Sleep Walk - Santo & Johnny
Baby You Got It - Brenton Wood
He's So Fine - The Chiffons
Love Is Strange - Mickey & Sylvia
One Fine Day - The Chiffons
(Love Is Like A) Heat Wave - Martha Reeves & The Vandellas
Long Tall Sally - Little Richard
Surfin' Bird - The Trashmen
Wooly Bully - Sam The Sham & The Pharaohs
When I think about "Oldies but Goodies", there are so many possibilities to choose from. I decided to narrow it down to the 70s!
One of my favorite movies from this time is the 1971 Willy Wonka and the Chocolate Factory. While the film is meant to be family-friendly, there are some deliciously dark moments of humor that only the more mature will fully appreciate.
Another favorite is 1973's Charlotte's Web. The movie covers many deep themes, such as love and loss, sacrifice, and ingenuity. The musical number "Life is a Veritable Smorgasbord" is one of the most fun moments in the animation.
Arguably the best albums from Fleetwood Mac came out of the 70s. Both Fleetwood Mac (The White Album) and Rumors were released in 1975 and 1977 respectively. Hits like Rhiannon, Landslide, Go Your Own Way, The Chain, and Dreams are still popular today.
When an artist is referred to as a "national treasure" it makes me think that their output is so incredible that they've created a national good; almost single handedly made this country a better place through their art. Here are a few "oldies but goodies" that I consider to be treasures, nationally and personally!!
Smokey Robinson
An incredibly prolific singer/songwriter/producer, etc. he made everything better with great tracks like "The Tracks of My Tears," "The Tears of a Clown," and "You Really Got a Hold on Me" just to name a few of his amazing hits. While any of his albums are awesome, Anthology really offers up the best of his career.
Ella Fitzgerald
"The First Lady of Song" has already shown up on my Top 5, but with the career she had, it's worth exploring even more!! Her incredibly ambitious songbook cycle of albums is summarized beautifully by the compilation, The Best of the Songbooks.
Alfred Hitchcock
It's hard to find a movie director that was better more often than Alfred Hitchcock. He was great at both thrilling audiences and also at making the psychology of his films intriguing. I could spend forever talking about his best but I'll stop at three films. His disturbing psychological tangle set in San Francisco, Vertigo. His superb adaptation of Patricia Highsmith's Strangers on a Train. Hitchcock's own favorite, the Santa Rosa set Shadow of a Doubt featuring Teresa Wright as a niece who finds out more about her favorite uncle than she wants to know.
Thelma Ritter
Finally, I would love people to get to know the wonderful career of character actor, Thelma Ritter. Fans of movies during her lifetime knew, when they saw her name in a cast, that she was going to make whatever she was in better and she never disappointed them. She received SIX Oscar nominations for Best Supporting Actress, more than any other performer in that category, and never won. Some highlights--she was fantastic as Jimmy Stewart's nurse in Hitchcock's Rear Window, she scored a comic Oscar nomination as Doris Day's tipsy housekeeper in Pillow Talk and had one of her finest Oscar nominated screen moments as a pickpocket in Pickup on South Street.
Movies & Music - Question of the Week
This musical artist never appeared on The Ed Sullivan Show, walking off the set in May 1963 when the network tried to censor the song they planned on performing.
Last Week's Trivia Answer: Sweden