Every week each of our Movies and Music Library Team will be bringing you the best of what we're watching and listening to so you can enjoy it too.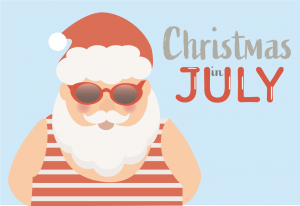 RL's Picks
The term Christmas in July was popularized in the US by the 1940 movie Christmas in July, written and directed by Preston Sturges. Advertisers started using Christmas in July themes by the 1950s for summertime sales and eventually some people started using Christmas in July as an excuse to have a party.
To prepare for a Christmas in July party check out Martha Stewart's Martha's Homemade Holidays. Martha teaches you how to make delicious gingerbread people and handmade gumdrop ornaments.
For more crafts, Holiday Crafts provides simple instructions on making bows, traditional wreaths, and centerpieces.
To really get yourself in the Christmas in July spirit, watch O Christmas Tree trace the history of the Christmas tree or watch Toy Trains and Christmas' elaborate Christmas train displays. In addition, Nutcracker performed by The San Francisco Ballet will get you eager to celebrate.
 Diane's Picks
Even if you don't celebrate CHRISTMAS IN JULY on the 25th this month here's some Christmas cheer to help keep you cool in the heat of summer:
CHRISTMAS JARS - a delightful little story that epitomizes loving kindness, and reminds us of the true spirit of Christmas.
CHRISTMAS AT HOLLY LODGE- Have yourself a Hallmark little Christmas with this snowy Christmas story. You may want to look at Hallmark's List of 10 Ways to Celebrate Christmas in July too.
THE SNOWMAN - This is an all-time animated favorite of mine that is based on the children's book by Raymond Briggs. It even inspired Kenny Loggins to record the song Walking in the Air.
Are you in need of some magical holiday cheer right about now? Then give these two tracks with a merry twist a listen!
"Dynamite (Holiday Remix)" by BTS
A song that's not a holiday song remixed to be a holiday song is the perfect way to celebrate Christmas in July. Stream or download on Freegal.
"Last Christmas" by Iration
The reggae-pop band from Hawaii puts an island spin on the Wham! holiday classic. Just like the original, I could listen to this reggae version year round.
Whenever I think of Christmas in July, I think of Christmas turning up in the most unlikely of places.
In a real meeting of Christmas and summer, the 1950's soap opera hit, A Summer Place is partially set during a particularly hostile Christmas between a mother and daughter. It is campy, nostalgic and Christmas-like all at once (also check out Percy Faith's Grammy winning adaptation of the Theme from A Summer Place streaming on Freegal).
People are cutting out gingerbread men, decking the halls and fighting monsters (?!) in Joe Dante's Christmas infused adventure film, Gremlins.
There is often a debate about Bruce Willis' Die Hard. Is it actually a Christmas movie at all? Don't worry about the debate and settle in for a classic action film with enough Christmas touches to keep a Christmas in July festive!
I also like to go off the beaten path of Christmas music. The Bonanza inspired Christmas at the Ponderosa dramatizes a Christmas gathering at the Cartwright brothers' ranch and it never fails to put a smile on my face. It starts out with the brothers being "attacked" by their neighbors.  It turns out the neighbors are just there to throw a surprise Christmas gathering. A warmhearted and funny Christmas treat.
Movies & Music - Question of the Week
"Mele Kalikimaka", a holiday song first recorded by Bing Crosby and the Andrews Sisters in 1950, means "Merry Christmas" in what language?
Last Week's Trivia Answer: "Let It Be"