Every week each of our Movies and Music Library Team will be bringing you the best of what we're watching and listening to so you can enjoy it too.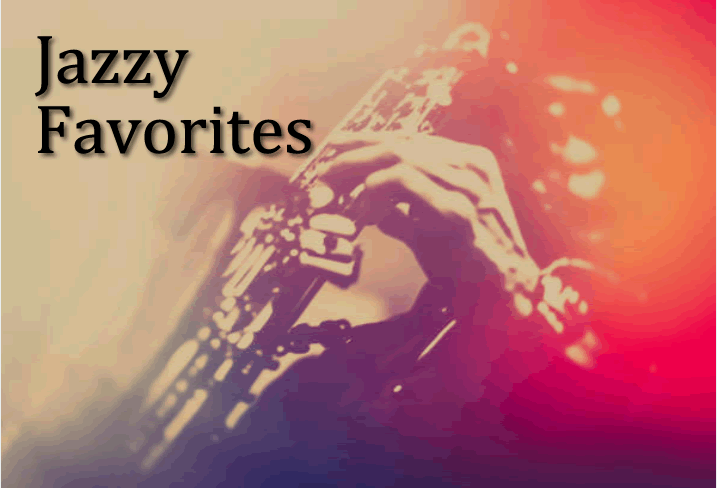 Monk is a two part documentary that followed Thelonius Monk around to different shows in 1968. Imagine the Sound follows this theme of examining the jazz scene of the 60's. New York Export: Opus Jazz is a modern reimagining of a performance from 1958. All streaming from Kanopy.
There are some great documentaries on DVD as well: The Jazz Ambassadors from PBS recounts the US government's efforts to send jazz artists overseas to spread positive cultural relations, and how this gave fuel to the domestic civil rights movement. Icons Among Us follows current (well, a decade ago) jazz artists around the venues they perform in, and spotlights different forms jazz has evolved into.
My all-time favorite jazz movie harkens back to a time when jazz was America's most popular music style.
Stormy Weather has a boiler plate and rather forgettable storyline but the music and dance is wonderful. Jazz vocalist Lena Horne plays the lead. Fats Waller sings and plays piano (and the rascal.) The Cab Calloway Orchestra is undeniably hip and then there is the incredible dancing of the Nicholas Brothers, as well as Bill Bojangles Robinson.
To get a great overview of the many facets of jazz through history, don't miss the Ken Burns documentary miniseries entitled Jazz. Streaming from Kanopy and available on DVD.
Check out Thelonious Monk: Straight No Chaser for insights into the brilliant and eccentric pianist and composer. This excellent documentary was directed by Charlotte Zwerin.
Herbie Hancock took home an Oscar for his score (the soundtrack is streaming on Freegal) of 'Round Midnight. Jazz legend Dexter Gordon plays the lead role based loosely on the life of troubled jazz great: Bud Powell and his friendship with a French jazz fan.
Here we are in April, National Poetry Month. When I think of poetry, I think of Jack Kerouac, the beat generation, Allen Ginsburg, and from there, my mind goes to jazz. Included in this playlist are my favorite jazz tunes that put me in a poetic frame of mind. Enjoy these songs either inspired by poetry, or contributed to poetry. The playlist will being with Jack Kerouac and his poem, San Francisco Scene.
I started listening to Jazz instrumentals in graduate school. I found that music with lyrics was too distracting to listen to during my many long hours of reading, writing, and research. I would put on Jazz playlists and then take note of songs or artists I particularly liked so I could explore them further at a later time. I came out of graduate school with quite a few favorite artists and albums and Jazz is now a regular part of my music listening.
Here are some of my favorites:
Saxophone Colossus by Sonny Rollins
Kaleidoscope by Sonny Stitt
The Legendary Oscar Peterson Trio Live at the Blue Note by Oscar Peterson Trio
A Love Supreme by John Coltrane
The Shape of Jazz to Come by Ornette Coleman
Sometimes one needs to try something new, something out of your experience. Maybe you will like what you find, maybe not, but your horizons will forever be expanded just in the trying something new. Jazz music is not something I'm familiar with, so I jumped into a list of the best jazz albums of 2019 by Jazzwise just to see which I might like. Here are a few of their selections:
Abdullah Ibrahim
Album: The Balance
Streaming on Freegal
Avishai Cohen & Yonathan Avishai
Album: Playing the Room
Available on CD.
Bradford Marsalis Quartet
Album: The Secret Between Shadow and the Soul
Streaming on Freegal
Quentin Collins Sextet
Album: Road Warrior
Streaming on Freegal
Sprinkles of jazz and all that goes with it often show up on children's music albums with a song or two, here and there. There are a few artists who spotlight the genre, though, like Johnette Downing, Lucy Kalantari, and Jazzy Ash. Worth checking out are Dixieland Jazz for Children, All the Sounds, and Swing Set. From the instructional to the old timey to the brand-new, these albums are full of toe-tapping, head-bopping, and full-on swaying songs. And, for a sampling of other artists, you can't go wrong with Putumayo Presents Jazz Playground.
For those seeking a true jazz experience, Jazz at Lincoln Center Orchestra with Wynton Marsalis offers up Jazz for Kids, available through Freegal Music. Classic children's songs are given a whole new life through creative exploration and interpretation, right from the beginning. Baa Baa Black Sheep and Old MacDonald are full of instrumental animals, Wheels on the Bus features sonically rich horns and wipers, and there has never been a more soulful rendition of Rubber Duckie. The whole album is a pleasure.
Digable Planets prove that jazz and rap are a winning combo on the 1993 album Reachin' (a New Refutation of Time and Space), featuring the chill hip-hop track "Rebirth of Slick (Cool Like Dat)".
Movies & Music - Question of the Week
Trent Reznor, Atticus Ross and this musician collaborated on the jazz-inspired score of the 2020 animated film Soul.
Last Week's Trivia Answer: 1980's