Every week each of our Movies and Music Library Team will be bringing you the best of what we're watching and listening to so you can enjoy it too.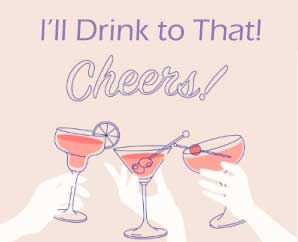 What a great phrase, "I'll drink to that!" once heard you know a celebration is about to begin. In these three films we are celebrating a trailblazer for gay rights in Ireland. Two famous champagne houses share their secrets, and the rules to make great champagne. I would recommend a wee tipple as you watch William Powell and Myrna Loy of the Thin Man films. Both of these actors are superb, and bring Dashiell Hammett's stories to life. Cocktails, witty banter and a murder or two…what else could be needed?
Queen of Ireland : The Life and Career of a Celebrated Irish Drag Queen
Here is a documentary of Panti Bliss, created by Rory O'Neill. Panti is a trailblazer for gay rights in Ireland. Her shows have been performed all over the globe to thunderous applause and laughter. Winner of Best Irish Film and Best Documentary at Dublin Film Critics Circle Awards. Official selection at the European Film Festival.
Kanopy
A Year in Champagne : The History of the Champagne Region in France
Oh that familiar sound of the pop of the champagne cork! Behind that cork and all those bubbles, is a fascinating story of how champagne is made and the strict rules needed to become Champagne. This documentary follows the champagne houses of Gosset and Bollinger both being instrumental in shaping the image of Champagne around the world.
Kanopy
The Thin Man Collection
This is a 1934 American pre-Code comedy-mystery film directed by W. S. Van Dyke and based on the 1934 novel of the same name by Dashiell Hammett. The film stars William Powell and Myrna Loy as Nick and Nora Charles, a leisure-class couple who enjoy copious drinking and flirtatious banter. I cite the collection here, as you can't just watch one! What could possibly go better than a couple of drinks when solving mysteries. In 1997, the film was added to the United States National Film Registry having been deemed "culturally, historically, or aesthetically significant".
Juan's Picks
Of the many exports that Mexico is recognized the world over for, few are as emblematic of the country as tequila and mariachi music. As such, popular culture has married the two in countless songs and films—some of my personal favorite songs that do so are Tequila con Limon (track 72) and 100% Mexicano. Placido Domingo's rendition is one of the many versions (Jorge Negrete's being the most traditional) which showcase the connection between the State of Jalisco and the Blue Agave based spirit. These songs I've shared with you align with our theme for this week, "I'll Drink to That," which connotes scenes of libation, celebration, heartbreak, and more. Which other songs in our catalog would you raise a toast to?
Debra's Picks
My father had a saying: "Everyone is born two drinks under par." That concept seems to be in play in the Danish Oscar winning film Another Round. Also on DVD/bluray
The Good House: Sigourney Weaver gets to show off her acting chops as a struggling New England realtor in denial about her alcoholism. The character's biting wit in asides to the audience are darkly funny, in spite of the seriousness of the topic.
Every culture has drinking songs, and some of the best come from Ireland. You can hear Jug of Punch, Juice of the Barley and The Parting Glass on the album The Clancy Brothers and Tommy Makem in Carnegie Hall. On Freegal and cd.
I also love some drinking songs from Mexico, like La Tequilera, sung by the legendary Lola Beltran, or by Lila Downs on the wonderful album La Cantina. Lila Downs also sings Mezcalito, which you can hear on Freegal or cd.
Another drinking song is Y Andale on Linda Ronstadt's album Canciones de mi Padre. There is also a dvd.
And of course, there's To Life, from Fiddler on the Roof. Hear it in Yiddish, from the cast album of the NY revival done completely in Yiddish: L'chaim. On Freegal and cd.
Diana's Picks
Wake In Fright: A film about a man's descent into madness as he finds himself stranded in the Australian outback after succumbing to peer pressure from the locals and gambling away all of his money. This film makes for a very challenging watch, but it does such a great job of exploring the consequences self medicating and over indulging to fill a void and paints a very stark picture of how important it is to go against the grain. The film is available to check out here or you can stream if for free on Kanopy here!
Famed director Jon Favreau (Iron Man, Jungle Book) shows off his comedy chops in this buddy film about the after hours bar scene and the working hours employment search. Vince Vaughn is full of charisma as Favreau's guide to being "money."
Another buddy comedy, director Alexander Payne's Oscar winner (Original Screenplay) follows wine connoisseur Miles (Paul Giamatti) as he takes his best friend, Jack (Thomas Haden Church) on a wine country tour before his friend's wedding. Complicated romantic entanglements disrupt the path that both men are following. Superb performance from Sandra Oh and Virginia Madsen as well as the lovely scenic support of California wine country round out this celebration of wine.
While Bond first is offered cocktails that are "shaken, not stirred" in Sean Connery's very first James Bond film Dr. No, he doesn't actually order the famous drink himself until Goldfinger. Regardless, both films suggest the high style of the martini and helped mythologize this method of ordering (and mixing) one. In Daniel Craig's depiction of Bond in Casino Royale, he delivers a very detailed order for the Vesper cocktail, the second most iconic Bond drink.
Dudley Moore earned an Oscar nomination for Best Actor for playing a wealthy and perpetually drunk man being forced to marry a woman he despises to keep his wealth. His path to a lifetime of wealth is complicated when he is dazzled by a woman from the wrong side of town (Liza Minnelli). John Gielgud won an Oscar for stealing the movie as Arthur's faithful friend and butler. Christopher Cross also won an Oscar for Best Song for Arthur's Theme.
While Hollywood often celebrates drinking, some truly great films also showed the downside of it. Charming leading man, Ray Milland got the greatest reviews of his career (and won the Best Actor Academy Award) in director Billy Wilder's harrowing film about one man facing his addiction to alcohol. The movie won a total of four Oscars including Best Picture.
Movies & Music - Question of the Week
The character of bar owner Sam Malone from the TV show Cheers is a former member of this professional sports team.
Last Week's Trivia Answer:  The Plague Dogs