Every week each of our Movies and Music Library Team will be bringing you the best of what we're watching and listening to so you can enjoy it too.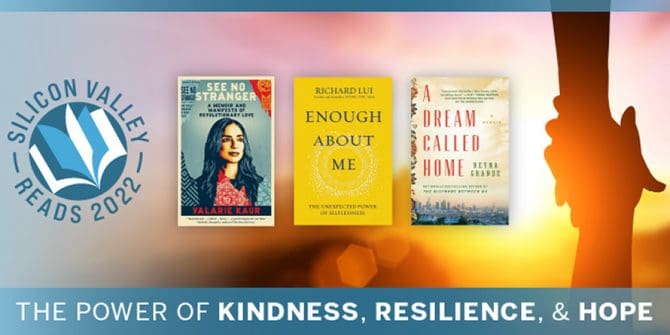 RL's Picks
Kindness:
Pay it Forward stars Haley Joel Osment as a boy who begins a chain reaction of kindness with a plan called "pay it forward." This means the recipient of a favor must do a favor for three others rather than paying it back. Catherine Ryan Hyde wrote the novel this film is based on and she also narrates Kindness is Contagious, a documentary about being kind and the benefits of being kind. For more kindness check out Sugihara Conspiracy of Kindness. This documentary is about a heroic Japanese diplomat who saved Jewish refugees in World War II.
Resilience:
In Building Your Resilience: Finding Meaning in Adversity, Molly Birkholm teaches you to move through your life with less fear and more joy as you learn to improve your resiliency. Birkholm is a yoga and meditation teacher and a trauma specialist.
Hope:
Raising Hope is about a young, single father raising his baby with the help of his family. This show is heartwarming & hilarious.
Diane's Picks
As I pondered recent changes happening in my own life, making many adjustments to those changes, and then the changes on top of the changes, well I felt a little like a GPS going into "recalculating" mode. Dealing with change can be a real exercise in resilience. Here are some films that exemplify hope, kindness and resilience:
HAPPY
This fascinating film is one of the best documentaries I've ever seen. Through scientific research and interviews with people from around the world you will learn some of the keys to happiness including kindness and resilience. Watch the trailer here.
If you want to delve a little deeper, watch a Ted Talk with writer-director Roko Belic speaking about what he learned in making this film.
42: THE JACKIE ROBINSON STORY
This film starring Chadwick Boseman is an inspiring account of how Jackie Robinson made history in 1947 by breaking the race barrier in baseball with hope, kindness, and resilience.
THE QUEEN OF KATWE
A young girl in Uganda learns to play chess and aspires to become a Grandmaster with the kind support of her teacher/coach and their community. It's an inspiring story of hope, resilience and determination based on a true story. I loved the credits at the end that show the real-life person next to the actor who portrayed them.
Debra's Picks
Kindness:
A Small Act: See how one small act can unknowingly have a huge and wide- ranging impact. On dvd and Overdrive video.
The Children of Chabannes: During World War II, residents of a tiny village in unoccupied France banded together to shelter 400 Jewish refugee children. Streaming on Kanopy.
Into the Arms of Strangers: About the kindertransport, when 10,000 Jewish children in Nazi-controlled territories were taken in by British families, schools and farms.
Resilience:
Three uplifting and inspiring documentaries of Holocaust survivors loving life in their 90's and older.
The Lady in Number 6: On dvd as well as streaming on Kanopy and YouTube.
Hope:
Two wonderful features that will give you hope in bad or dangerous times
Live and Become, streaming and on dvd.
Movies & Music - Question of the Week
Rapper Curtis Jackson, better known by this stage name, penned the 2020 memoir/self-help book Hustle Harder, Hustle Smarter.
Last Week's Trivia Answer: Morgan Freeman