Every week each of our Movies and Music Library Team will be bringing you the best of what we're watching and listening to so you can enjoy it too.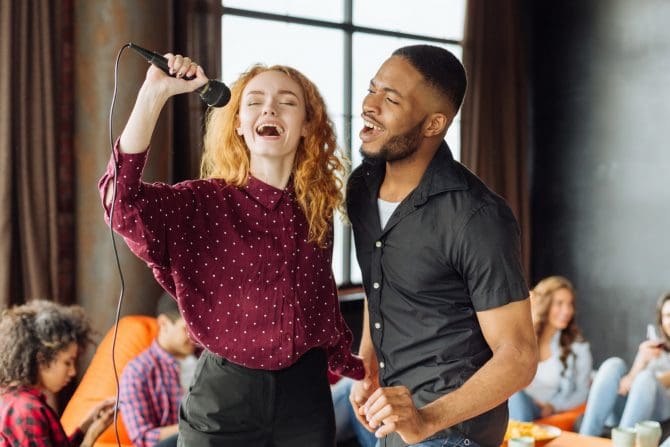 Diane's Picks
There is nothing like the loyalty of a dog to its human, and you may wonder who the real hero is when they pair up:
Debra's Picks
Some of my favorite musical dynamic duos:
2Cellos: Two Croatian classically-trained cellists play popular and classical hits in new and innovative ways. Their videos are especially entertaining. And it doesn't hurt that they're quite good-looking. On cd and Freegal.
Rodgers and Hart: aside from Pal Joey, the musicals weren't always that great, but they produced a good portion of the Great American Songbook. Richard Rogers is one of our greatest popular composers and Lorenz Hart provided the sophisticated lyrics.
Also streaming on Alexander Street.
Rodgers and Hammerstein: Later Rodgers worked with Oscar Hammerstein and they turned out to be pretty dynamic too. They produced some of our most iconic musicals including Carousel, Oklahoma, South Pacific, The King and I and The Sound of Music.
Kander and Ebb: In the world of musicals, they're my favorite duo. These musicals are definitely on the darker side: Cabaret, Chicago, Kiss of the Spider Woman.
Gilbert and Sullivan: W.S Gilbert and Arthur Sullivan gave us The Mikado, HMS Pinafore, and other fun and funny operettas. The Pirates of Penzance, with Linda Ronstadt and Kevin Kline was a Broadway hit and there's a great film of the live performance. There's also a film by Mike Leigh about this dynamic duo: Topsy-Turvy looks at their creative collaboration, personal lives and especially the staging of their greatest hit, The Mikado. The music is streaming on Alexander Street.
Simon & Garfunkel had so many great songs but I would single out the album Bookends and the song Bridge Over Troubled Water.
A favorite dynamic dance duo
Fosse/Verdon: Bob Fosse and Gwen Verdon are the quintessential choreographer/dancer collaborators. The miniseries Fosse/Verdon, with Michelle Williams and Sam Rockwell tells the story of this brilliant married couple; Fosse, who directed and choreographed for stage and screen, including The Pajama Game, Damn Yankees, Sweet Charity, Cabaret, Chicago and All That Jazz. And Verdon, four-time Tony winner, muse and uncredited choreographer assistant and dance coach for Fosse. She created the title role in Sweet Charity and Roxie Hart in Chicago. She was the inspiration and first Lola in Damn Yankees. Uncredited, she helped Fosse direct the film version of Cabaret and after his death she collaborated with Ann Reinking on the tribute musical Fosse.
Dynamic Duos in Film
There are lots of great duos in film. I'm thinking of Thelma & Louise, Butch Cassidy and the Sundance Kid, Cheech & Chong, Bonnie & Clyde. But my favorite is Nick and Nora Charles, the married couple who solve murder mysteries while exchanging sharp and witty repartee in the Thin Man series, although I suppose if you include their lovable pooch Asta, it's a trio. They're portrayed by William Powell and Myrna Loy, an iconic duo featured in the documentary Alias Nick and Nora.
Steven Spielberg had his John Williams, and Alfred Hitchcock had his Bernard Herrmann, but in my opinion no film careers are more intertwined than Federico Fellini and his composer Nino Rota. Their celebrated cinematic partnership produced the iconic films 8 1/2, Amarcord, La Dolce Vita, and Nights of Cabiria (the film on which the musical Sweet Charity is based) and indeed most of Fellini's well-known films. Some of these movies are streaming on Kanopy.
These filmmaking duos have created masterful films worth exploring.
Scenes from a Marriage-A full exploration of a tumultuous relationship between husband and wife. The Criterion disc features both the US Theatrical version and the original Swedish TV mini-series it was created from.
Persona-A nurse goes to an isolated house to care for an actress, who seems physically healthy, but can not or will not speak. This is one of the most visually stunning and enigmatic movies ever made. It is ranked number of 17 of the all-time greatest films by Sight and Sound.
Martin Scorsese and Leonardo DiCaprio
The Aviator-Scorsese does a history of Hollywood with all the cinematic trimmings including an enigmatic DiCaprio in the center of it all. An explosion of light and color, this film won 5 Academy Awards.
The Departed-Scorsese finally won a Best Director Oscar for this story of two men going undercover on opposing sides in the war between organized crime and the police in Boston.
The Wolf of Wall Street-Both DiCaprio and Scorsese hit high points in this breathtakingly entertaining expose on the excesses of Wall Street.
Movies & Music - Question of the Week
Martin Scorsese and Robert DeNiro have made nine films together. Which of the following films did they not work together on?
Last Week's Trivia Answer: Kauai