Every week each of our Movies and Music Library Team will be bringing you the best of what we're watching and listening to so you can enjoy it too.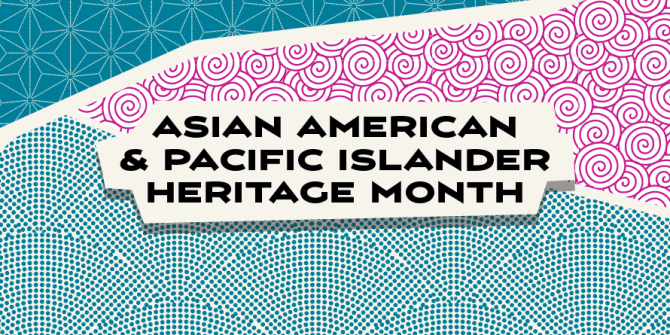 RL's Picks
Celebrate Asian Pacific Heritage Month this year with Filipino Cinema.
In Who's That Girl?, Lizzy has a big crush on Johnny and is devastated to learn of his death while reading the obituaries. Lizzy shows up to the wake and finds out her Johnny didn't die, Johnny Sr. died! Lizzy leaves the wake, but the damage is done, the family now thinks Johnny Sr. was having an affair with Lizzy.
Speaking of affairs, Etiquette for Mistresses is about a group of sophisticated mistresses who begin to question their rules when one of their lover's dying wish is to pass into the afterlife in the arms of his mistress.
24/7 in Love is a certified blockbuster hit! In this film, Jane must complete a documentary project where she interviews people from all over the city about what they would like to do before the end of the world. Jane's project helps her learn about love and what really matters. Now she must decide whether to attend a once-in-a-lifetime concert or a long-awaited family reunion.
This month, take some time to watch some documentaries about notable local Asian Americans:
Changing Season: On the Masumoto Family Farm tells the story of the titular family farm in the Central Valley, as founder David grew the business in the 20th Century and now prepares his children to take over. (The library also has a selection of books by David Masumoto.)
In, Golden Gate Girls: Esther Eng: A pioneering Asian American FIlmmaker, it becomes hard to believe the works of such an unusual person could be mostly lost now. Esther was an SF native, the first Chinese American film director, and openly lesbian in the 1930s.
Forever, Chinatown is an outstanding look at San Francisco Chinatown artist Frank Wong and his incredibly detailed miniature models of rooms he remembers from childhood. His work is a celebration of daily life, showing how one person's work in a butcher shop creates memories for a family down the street as they cook dinner together.
Aoki features another Bay Area resident, Richard Aoki, and discusses his founding and involvement with the Black Panther Party.
Halving the Bones while not exactly local, this one makes my list anyway because it features a name familiar to many library goers - Ruth Ozeki.
Juan's Picks
Did you know that one of the reasons why AAPI heritage month is celebrated in May is, according to the Library of Congress, "to commemorate the immigration of the first Japanese to the United States on May 7, 1843?" The United States is often referred to as a nation of immigrants because of its diverse cities and rich immigration history. A well-known example is Los Angeles, which my research indicates is home to the largest population of people of Japanese descent outside of Japan itself. However, what does this have to do with music, you may ask? Well, please bear with me while I provide you with some context behind my song choice for this week. As you may know, Cinco de Mayo is a common time for people to celebrate with delicious food, drinks, and mariachi music. Los Angeles has long been a hub for mariachi musicians, attracting some of the best talent from across Mexico. Some of the world's best mariachi groups were founded in Los Angeles. Sometime around 1999, before the ubiquitousness of the internet, Mariachi Vargas de Tecalitlan performed Kawa no nagare no yō ni in Japan in the song's original language. They also recorded a version of it in Spanish and Japanese: Kawa no nagare no yō ni (listen using your library card on our free service, Freegal).
While I can't be sure of the exact origins of this song in the mariachi repertoire, I suspect that the sheer diversity of Los Angeles (then and especially now) helps expose mariachi musicians to music and culture beyond their own. Even more impressive is the fact that this song was adapted before the time the internet had truly revolutionized the music industry.
Kawa no nagare no yō ni was the final single recorded by Japanese superstar Hibari Misora before her untimely passing in 1989, having aged just 52 years old. Many artists since then have paid tribute to Hibari Misora through their own renditions of this moving song that deals with themes of heartbreak and hope.
Considering that AAPI month is in May, this Cinco de Mayo I recommend you request this beautiful song from your neighborhood mariachi. Don't be surprised if more than a few musicians know it well!
Debra's Picks
Asian-American actor John Cho has appeared in some of my favorite movies: Columbus, (directed by Korean-American Kogonada, whose new film After Yang is now available), Searching, (directed by local South Asian Aneesh Chaganty) and Better Luck Tomorrow (directed by Taiwanese- American Justin Lin)
Wayne Wang was probably the first Asian-American director I became aware of. He directed Dim Sum: a little bit of heart, Joy Luck Club, and Eat a Bowl of Tea, among others.
If you've read the novels of Amy Tan (or seen the SF opera production of The Bonesetter's Daughter) you'll want to see the documentary Amy Tan: an unintended memoir, a very personal depiction of how her painful past inspired her stories.
The classical music world is packed with amazing and well-known Asian-American performers like Yuja Wang, Yo-Yo Ma, Sarah Chang, Jennifer Koh and Midori. But it's not just the performers. Although you may not know the name, you might have heard the film scores of classical and opera composer Tan Dun (Crouching Tiger Hidden Dragon, Hero). Bright Sheng is another major composer in the classical world.
Closer to home, check out local Indonesian gamelan group Pusaka Sunda, led by master suling player Burhan Sukarma on Live at the Jazz School.
88Rising
The 88Rising collective represents mostly Asian-American artists or Asian artists who release hip-hop and r&b music in the U.S. and count Joji among their crew. Check out their debut collaborative group project Head in the Clouds with the standout track "Midsummer Madness". 88Rising also produced Shang-Chi and the Legend of the Ten Rings: The Album, inspired by the film, which highlights their artists and features appearances by rapper Saweetie (who is of Filipina and Chinese heritage) and r&b singer Jhené Aiko (who is of Japanese heritage).
Common Kings
Formed in Orange County with members of various Pacific Islander descent (Fiji, Hawaii, Samoa, and Tonga), reggae group Common Kings infuses their island sound with hints of rock, r&b, and soul. Their 2017 debut album Lost in Paradise was nominated for a Grammy Award for Best Reggae Album. The band joins forces with Hawaiian reggae band Iration on the head-bopping "If You Only Knew".
Other notable AAPI music:
Like Debra, Wayne Wang is the first Asian-American director I became aware of and I remember vividly his debut feature from 1982, Chan is Missing. Seeing San Francisco through his eyes and the way the film showed elements of the Chinese-American experience of the time was one of those moments where I saw the power of film to make me see a familiar city in a new way.
Director John Chu grew up right here in Santa Clara County. His father's restaurant Chef Chu's is a familiar dining spot in Los Altos. He works in a wide a variety of genres but in the last few years has gotten attention for two acclaimed adaptations. The mega hit, Crazy Rich Asians and Lin-Manuel Miranda's In the Heights.
As a science fiction fan, one of my favorite characters on TV when I was a kid was on Star Trek; Hikaru Sulu played by the wonderful George Takei. Takei created an indelible character on that landmark series but is also well known for illuminating the plight of Japanese Americans during World War II in the US.
Watching the Tony Awards in 1991, I heard the soaring, powerful vocals and saw the electric presence of Filipina singer, Lea Salonga, who would win the Tony award for her performance in Miss Saigon that night. She always manages to give sincere emotion to her work whether it's singing as Princess Jasmine in Aladdin or singing the musical standards Live in concert, she uplifts whatever she works with.
Movies & Music - Question of the Week
Awkwafina won the Golden Globe Award for Best Actress in a Motion Picture (Comedy or Musical) for this film, becoming the first woman of Asian descent to win a Golden Globe in any lead actress film category.
Shang-Chi and the Legend of the Ten Rings

0

Raya and the Last Dragon

0
Last Week's Trivia Answer: Carlos Castaneda