Every week each of our Movies and Music Library Team will be bringing you the best of what we're watching and listening to so you can enjoy it too.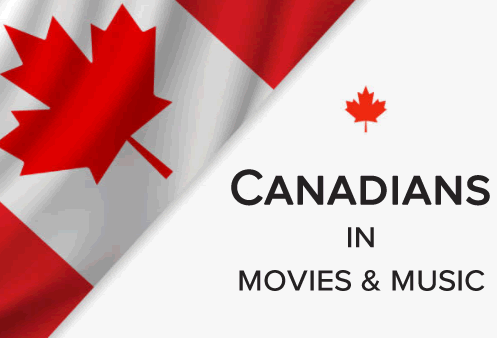 When it comes to entertainment, there really is a lot to love about our neighbors to the North!
"So Into You" by Tamia
This classic R&B jam by Canadian born and bred singer-songwriter Tamia has been in my regular rotation since its release in 1998. Childish Gambino is also a fan and pays respect to the original by performing his own chilled-out take on the song.
"Ironic" by Alanis Morissette
Ironic? Possibly. Iconic? Definitely.
Whether the circumstances described in the song lyrics can actually be defined as irony has been up for debate since Morissette's breakout Jagged Little Pill album was released in 1995. Two things that are for certain, in my opinion: 1) This is a go-to karaoke song; and 2) The music video starring 4 versions of Alanis is 'a 90s gem and just plain fun to watch.
Kim's Convenience
If you love the Canadian show Kim's Convenience, this video on Kim's Convenience facts every fan should know is a must-watch. The sitcom is based on the play Kim's Convenience about a Korean-Canadian family that runs a convenience store in Toronto. Ins Choi wrote, starred in and directed the play based on his own family and upbringing, and went on to direct the popular Canadian TV series as well.
Houseguest
The late Canadian comic Phil Hartman plays as an uptight family man who mistakenly welcomes Sinbad into his home in this family comedy film from 1995. This movie made such an impression on me that over 25 years later I still regularly reference obscure moments and lines from this film, mostly for my own laughs. Need more of Phil's deadpan? Check out Saturday Night Live: The Best of Phil Hartman for some of his funniest moments from SNL (and there were many).
The first thing I think of when looking for Canadians in movies and music is only slightly related: youtube videos! Steve Wallis records his attempts to camp in strange places - on hiking trails, in abandoned gas stations, in a van at the airport. You get to see different places in Canada, and learn something about camping at the same time. Somewhat similarly, Steve Silva posts video explorations, usually silent, of various places in Yukon. It was this channel that got me curious about daily life in super cold places, since many of the roads he travels on are gravel. (Gravel is more flexible in areas prone to freezing weather - asphalt would be harder to maintain.)
Also, here is a short selection of enjoyable movies starring Canadian actors:
Detective Pikachu may not initially appeal to people who aren't familiar with the Pokémon franchise, but Ryan Reynold's voice acting as the titular character makes watching worthwhile.
Zack and Miri Make a Porno is one of Seth Rogen's earlier movies and is pretty funny despite being largely forgotten about.
And finally, the first time I watched I Love You Phillip Morris, I was in awe trying to figure out how this story could have actually happened. This movie is a little different than Jim Carrey's usual movies, but still really funny.
I'm a big fan of country music (and female vocalists), and in particular I enjoy the sub-genre known as "alt-country." One of the finest examples of alt-country is a band out of Toronto called Cowboy Junkies. Fronted by Margo Timmins and backed by her brothers Michael and Peter Timmins (on guitar and drums, respectively), along with bassist Alan Anton, Cowboy Junkies have released 22 studio albums since 1986. Their music is languid, haunting, and humble, with Margo Timmins' smoky, ethereal voice telling stories and weaving each song to its conclusion. My favorite album of theirs is Lay it Down, but for new listeners I would recommend starting with Black Eyed Man or The Caution Horses.
Another Canadian, from Quebec this time, is singer Céline Dion. Dion began her career at the age of 12 and quickly became a star in her home province. Her early career output consisted of French-language albums, but her English-language crossover album came in 1990 with Unison, and spawned the hit song "Where Does My Heart Beat Now." From then, Dion has been unstoppable in the adult-contemporary music market and has released a total of 27 albums in English and French. She is one of the bestselling recording artists of all time, and her records have sold more than 200 million copies worldwide. Most people are familiar with her famous songs "My Heart Will Go On" (love theme from the film Titanic and "The Power of Love," but I'm a particular fan of her 1998 Christmas album, These Are Special Times. Céline Dion also appeared on "Carpool Karoake" with James Corden. The hilarious segment can be viewed here. Céline Dion's music is pure pop bliss, and her crystalline vocals are second to none. She's been a favorite of mine for a long, long time.
RL's Picks
According to their website, Canada's Walk of Fame "inspires all Canadians by proudly shining a light on extraordinary Canadian achievers and their successes." People honored in the Arts & Entertainment category include greats like Leslie Nielsen and Jason Priestley, but fellow Canadian Hayden Christensen is nowhere to be found.
I don't think Canada's maple leaf-star lined sidewalk in Toronto can be legitimate without honoring the man who played one of the best characters of all time: Darth Vader. Hayden Christensen gave a solid performance as Anakin Skywalker and executed some great lightsaber battles. He's coming back as Darth Vader in Disney's Obi-Wan Kenobi series, which is going to be amazing!
Early in his career, Christensen plays a paperboy in John Carpenter's In The Mouth of Madness. He has a short scene with a crazy Dr. Grant and nails it! It's fun to see the future Darth Vader as a little boy.
In Shattered Glass, Anakin plays real-life journalist Stephen Glass who was discovered to have fabricated his stories. Lying leads to the Dark side.
In Jumper, Hayden plays a teleporter who uses his powers for stealing money from bank vaults, seeing the world, and teleporting 2 feet closer to the remote while on the couch. This film also has appearances from Yondu and Tintin.
Darth Christensen plays a crusader with a fauxhawk in Outcast. He finds himself in the East where he meets a young prince and his sister who need his protection. Christensen's wardrobe is a little reminiscent of a Jedi's tunic.
Christensen's filmography also includes Little Italy, 90 Minutes in Heaven, American Heist, Vanishing on 7th Street, Takers, Awake, Factory Girl, The Virgin Suicides and Life as a House.
If you feel like Hayden Christensen, preeminent thespian and Lord Darth Vader, deserves to be on Canada's Walk of Fame, then join me in telling Canada.
 Diane's Picks
Oh Canada, it is astounding how much great talent comes from you our neighbor to the north. Just to name a few, here are a couple of musicians and a couple of actors that I enjoy:
JONI MITCHELL
This amazing artist from Canada is a true creative talent - a poet, a songwriter, a painter, and for me a lifelong favorite musician. In her beautiful song A CASE OF YOU, for our theme this week I have to point out her lyric, "I drew a map of Canada. Oh Canada. With your face sketched on it twice." This song is on the best album ever, BLUE, which also has a song of homesick longing for another wonderful place, CALIFORNIA.
JUSTIN BIEBER
We've witnessed this young Canadian artist growing up in recent years, and his latest body of work has surprisingly made me a fan. Here are his two most recent albums:
• JUSTICE (released March 2021)
• CHANGES (released in 2020)
THE RYANS
Finally, I just needed to mention a pair of Ryans from Canada. Each of them are great talents in their own right and have been in lots of great movies, you pick your favorites!
• RYAN GOSLING
• RYAN REYNOLDS
Movies & Music - Question of the Week
Which comedian did NOT star on the Canadian sketch comedy show SCTV?
Last Week's Trivia Answer: Shirley Bassey