Every week each of our Movies and Music Library Team will be bringing you the best of what we're watching and listening to so you can enjoy it too.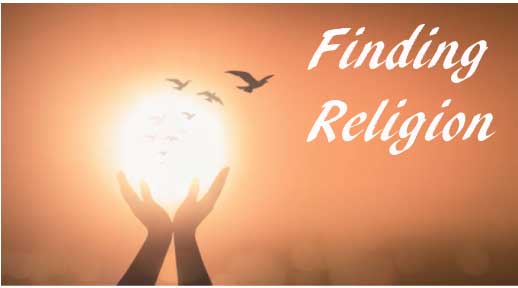 Debra's Picks
The Rapture: I just saw this film. It's a brave and unique movie. In spite of the hokey effects of the apocalypse scenes, I admire the authenticity of the director's vision and his daring to go all the way with it. Mimi Rogers gives a riveting and incredibly moving performance as a telephone operator weary of her life of casual sex and dead-end job, who joins a religious sect with ultimately tragic consequences. I feel like this movie dares to ask big questions about faith without judging or giving answers. But ultimately, it's Rogers' performance of a lifetime that makes this movie.
First Reformed: Here is another movie that dares to ask big questions about faith and morality, without any easy answers. The ending is ambiguous and it's the only time I ever had a stranger approach me in the theater to ask what I thought the ending meant. This is a movie that stays with you and makes you want to discuss, even with a stranger! It's a very introspective film, starring Ethan Hawke. DVD/BLURAY
Saved! I love this teen comedy! Although it's an irreverent take on the Christian evangelical teenager's high school experience, it's good-natured and heartwarming, while pointing out the danger of taking things too far. Super-fun movie, I think I should watch it again.
Some of the most beautiful music in the world is religious and I have many favorites. Some of the following are indeed beautiful or soothing, some are terrifying, some a bit creepy, but I love them all.
Verdi's Requiem: the Dies Irae is terrifying. But beautiful in the end. Medici.tv
Vivaldi: Stabat Mater soothing, but depressing. A few uplifting tunes (but of course beautiful) Alexander Street Classical
Anonymous 4: A Mass for the End of Time calming, but also creepy (but beautiful)
Rev. Gary Davis: You Got to Move on Freegal and cd
Rev. Gary Davis: Death Don't Have no Mercy from the album Harlem Street Singer streaming on Alexander Street. It is also the title of a documentary about this American master musician, gospel and blues singer, a 1960s icon who had a lasting impact on a generation of musicians. Well, I just love everything by Rev. Gary Davis!
Three songs on the soundtrack of O Brother Where Art Thou
Alison Krauss: Down to the River to Pray
RL's Picks
Ever listen to Christian heavy metal? You should check out Christian heavy metal band P.O.D. from San Diego. SCCLD has some of their best work:
-Satellite has the hit single (from 2001) "Alive." Really good track.
-The Matrix Reloaded The Album features P.O.D.'s "Sleeping Awake."
-Brown
-Testify
-Santana's Shaman features P.O.D. on the song "America."
Juan's Picks
Every 12th of December, all people are invited to celebrate Our Lady of Guadalupe with music, prayer, and other traditional activities. In line with our theme for this week, which is religion in film and music, I would like to highlight the special relationship between mariachi music and Our Lady of Guadalupe.
As the patron saint of México, Our Lady of Guadalupe is a cultural symbol that unites people across political and social divides. If you would like to know more about the stories that people tell about her through film, please check out some of these great movies in our collection.
Many people who celebrate this day choose to attend special gatherings that are held in peoples' homes, in churches, and other community spaces. Anyone with a desire to do so is able to host a celebration on this day. These celebrations—whether large or small—are often filled with delicious food, prayer, stories, and music. Mariachis (plural of mariachi) are often hired to perform serenatas by performing songs which venerate her legacy and inspire listeners to hope, dream, and persist. Famous artists like Marco Antonio Solis and Juan Gabriel have contributed songs to the robust repertoire that is commonly performed on Our Lady of Guadalupe day. While far too many songs exist to list them here, some staples are Himno a la Humildad and Amor Eterno (sometimes known as Mi Virgen Bella). The latter song has special lyrics dedicated to the Virgen Mary, lyrics which are only sung on the 12th of December, hence the alternative title. In what ways do you see music and religion connected? Please feel free to explore this and other topics using your local library's resources! As always, we are happy to help if you need help exploring all that we have to offer.
The tension between organized religion and the supernatural is movingly explored in Resurrection. Ellen Burstyn, in an Oscar nominated performance, as a woman who experiences a clinical death after a car accident. After she is revived she has the ability to heal other people. She creates a controversy when she explicitly rejects organized religion. Burstyn gives a deeply felt performance and there is great supporting work from Eva La Gallienne (also Oscar nominated) and Sam Shepard.
Surprisingly there is quite a bit of exploration of faith and religion in the Oscar winning horror film, The Exorcist. Ellen Burstyn, in another Oscar nominated performance, plays an actress and concerned mother whose daughter is possessed by a demon. Jason Miller (a Pulitzer winning playwright as was Shepard), turns in an Oscar nominated performance as the conflicted priest battling inner demons as well as exorcising outer ones.
Martin Scorsese is not widely thought of as a religious director but religious themes are used throughout his films and at least three are explicitly about faith and religion and are typically thought provoking in the way Scorsese approaches the subject.
The Last Temptation of Christ - A controversial adaptation of Nicholas Kazantzaki's novel which imagines an alternate life path for Jesus Christ. This meditation on the humanity of Christ is powerful and thought provoking with an intense Willem Dafoe in the lead and a powerful score by Peter Gabriel.
Kundun - The life of the 14th Dalai Lama is explored in this sumptuous epic vision. The film spans the time in Tibet between 1937 - 1959 and follows the life of the Dalai Lama from his discovery as a child to the escalating tensions with China that force his exile.
Silence - Even while Catholicism is outlawed in Japan, two Catholic priests travel to Japan to find their missing mentor. The journey challenges their faith to its very core as they see the way religion is used and misused around them.
Matisyahu, the almost unique "Chassidic reggae superstar" manages to mesh religious and spiritual themes (much as he meshes multiple musical styles) throughout his albums. Spark Seeker, a strong effort, features songs with direct reference to religion like "Bal Shem Tov", "King Crown of Judah", and "Tel Aviv'n".
Mavis Staples is one of the transcendent figures of gospel music. Her voice has such reserves of joy and power that even if she wasn't singing gospel music, the listener would have a religious experience. Her recent album We Get By is a strong effort even as it mourns some of the sadnesses of our time, there is still joy and resilience to be found.
Movies & Music - Question of the Week
Denzel Washington played an angel in which film?
Last Week's Trivia Answer:  Dorothy