Every week each of our Movies and Music Library Team will be bringing you the best of what we're watching and listening to so you can enjoy it too.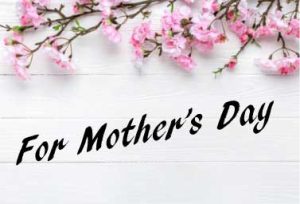 And now we celebrate mothers! In these documentaries you will witness the great joy and complexities in taking care of a mother, and you will see the dramatic impact a mother can have on their children, especially their sons.
Complaints of a Dutiful Daughter
In this documentary, we witness the heartbreak, and the joy in taking care of a parent with Alzheimer's. As a daughter that watched this film while taking care of my mother with Alzheimer's, I learned patience, kindness and laughter. It felt good to laugh. This documentary will not only assist in the care of a family member with Alzheimer's, it will show us all to slow down with our parents and other elderly family members, to listen and to embrace the joy of being with that person. This 1994 film, created and directed in the Bay Area was nominated for an Academy Award.
Nana, Mom and Me
In this documentary we are shown the complexities of the grandmother-mother-daughter relationship. Using photos and home movies from their past, the daughter (and director) shares the lives of the women in her family, and shows us the many facets of being a mother.
Mom and me : A Story about Men and the Women that Raised them
Upon hearing that Oklahoma was recently voted the "Manliest" state in the USA, a radio show host in Oklahoma decides to reach out to the men of this state to discuss their mothers on air. The men come from all walks of life and share the impact their mothers had in their lives. Winner of best documentary at the Cleveland International Film Festival.
Debra's Picks
Allegorical mother:
Mother! "A couple's relationship is tested when uninvited guests arrive at their home, disrupting their tranquil existence." That's the description of the plot, but there are multiple layers to this film - and "disruption" is an understatement, as it becomes horrific and shocking. It's a very polarizing movie, with many interpretations. You will either love it or hate it - I loved it.
Protective mother:
Mother This is a Korean film by the great Bong Joon-ho (Parasite). An elderly mother, fiercely devoted to her naive young adult son who lives with her, desperately tries to find the real killer when her son is arrested for murder. She believes he is being framed, but learns that the truth is more complicated.
Scary Mother:
The Babadook Not really a horror film, but almost too psychologically disturbing for me to keep watching towards the end - it says a lot about motherhood and repressed trauma and grief. DVD/bluray
Brave Mother:
Till Mamie Till Mobley, the mother of Emmett Till goes to extraordinary lengths to pursue justice for her murdered 14-year old son who was lynched while visiting his cousins in Mississippi. There is also a documentary on Kanopy and dvd.
All Kinds of Mothers:
Pedro Almodovar may be a little obsessed with mothers. Many of his best movies are about mothers. A recent one is Parallel Mothers. I also really liked All About My Mother (Todo Sobre Mi Madre), Oscar winner for best foreign film, and Volver.
Surrogate Mother:
The Second Mother Brazilian film about a live-in housekeeper for a wealthy family who has raised their teenage son since he was a toddler. When her own estranged daughter shows up, class dynamics and family loyalties are forced to be re-examined. dvd
Invisible Mother:
The Disappearance of My Mother "I want to disappear and never come back". A portrait of Benedetta Barzini, Italian fashion model and radical feminist (the first Italian model to appear on the cover of Vogue) who at the age of 75 decided to disappear from the public eye. Only her son is allowed to film her journey and a battle between mother and son develops as he fights to capture her image - and her liberation. dvd
Activist Mother:
Pray the Devil Back to Hell Documentary about the brave mothers of Liberia who demanded an end to civil war, violent warlords and the Charles Taylor regime. They were instrumental in bringing peace to their country.
Las Madres: The Mothers of Plaza de Mayo: Argentinian Mothers Fight for Justice They fought against the dictatorship and demanded to know the fate of "the disappeared", the 30,000 sons and daughters who were secretly adopted by their enemies after their parents were arrested and killed.
3 songs about mothers:
Mother and Child Reunion: Paul Simon On Freegal and cd
Motherless Children Have a Hard Time: Blind Willie Johnson On Freegal and cd
Rose's Turn : from Gypsy On Freegal, cd and dvd
RL's Picks
Mother! is not your typical Mother's Day film, but it is certainly a memorable one. Directed by Darren Aronofsky, this psychological thriller stars Jennifer Lawrence as a young wife living with her older husband, a poet played by Javier Bardem. When they invite strangers into their isolated home, things start to unravel in a disturbing and chaotic way. The film delves into themes of creation, religion, and the destruction of the environment. It is a challenging and intense viewing experience, but one that is sure to leave an impression. While not necessarily a feel-good film for the holiday, it is a powerful exploration of the darker aspects of motherhood and femininity.
Serial Mom is a hilarious and twisted take on the traditional mother role. Kathleen Turner's performance as a seemingly perfect housewife turned murderous mother is both funny and terrifying. Director John Waters infuses the film with his signature campy style and sharp wit, making for a unique and entertaining viewing experience. Serial Mom is a perfect choice for a Mother's Day movie marathon that goes beyond the typical sentimental fare.
Mother's Milk is a classic Red Hot Chili Peppers album that highlights the band's unique blend of funk, rock, and punk rock. Released in 1989, it includes memorable hits such as "Higher Ground" and "Knock Me Down." Overall, Mother's Milk is an album that is sure to resonate with anyone looking to celebrate the enduring bond between a mother and her child.
Singer-songwriter Townes Van Zandt has been on my mind lately. I've been a listener of his music for over 30 years and his music is closely tied to memories that reside deep within me. 1969's Our Mother the Mountain, beyond just the title fitting with this theme, is one of Townes' best. Also available on Freegal.
I've said it before and I'll say it again: How Big, How Blue, How Beautiful is Florence + the Machine's masterpiece. Check out this live performance of Mother, the album's closer.
One Size Fits All by Frank Zappa and the Mothers of Invention is an album in the canon of albums I've listened to that illuminated for me the reaches of what music can be. I have my older brother to thank for that. I spent many an hour listening to the very loud music he played through his walls; Frank Zappa was one of several that had a hand in shaping my musical explorations. This music isn't for everyone, but if you like weird, bold, progressive rock with Jazz and psychedelic elements, this album might be right up your alley. Inca Roads is one helluva opener.
Carrie & Lowell by Sufjan Stevens is a gentle, beautiful album that Stevens wrote as a means of providing closure after the death of his mother (Carrie), who suffered from mental illness, abandoned him when he was a baby, and with whom he had a delicate, fraught relationship. The album is also about his relationship with Lowell Brams, who became his stepfather when he married Carrie, and ultimately co-founded Stevens' record label, Asthmatic Kitty. This album is lovely and everyone should hear it, but it's particularly poignant for anyone who has lost a parent or existed within a fractured family structure.
Diane's Picks
As I considered our current theme about mothers, I thought about films that had mother stand-ins and some unusual alternate mothering situations.
Firstly, some of the movies I have most enjoyed were when motherhood is unexpectedly thrust upon someone; big adjustments and coping ensues in each of these films:
Baby Boom *
Mostly Martha (in German, original version)
No Reservations (American remake of Mostly Martha)
Next some films with adoptive mothers and some unusual mothering situations:
Parallel Mothers
Finally, the understanding and redemption that might happen between a mother and child who have struggles in their relationship with one another:
Everything Everywhere All at Once
Hope Gap *
note: my favorite in each of the above groups it denoted with an *
Juan's Picks
The month of May brings along warmer weather and the opportunity for us to collectively celebrate the mothers in our lives. Whereas the United States observes Mother's Day on the second Sunday of May, many other countries have alternative dates for this celebration. For example, México, Guatemala, and El Salvador each observe this celebration on May 10.
Regardless of the day that you choose to celebrate Mother's Day, sharing a heartfelt song with mom can be a great way to express gratitude, love, and affection. The following are just a few of the songs I've dedicated to my mom over the years:
Which songs do you dedicate to your mom? Are you able to find them in our catalog or eMusic sites? I hope to see you at the library!
So many great films about moms.
Here are a few dysfunctional moms for the fun of it and one incredible mom to balance my recommendations.
Two wildly different adaptations of James M. Cain's novel of mother love gone very wrong, Mildred Pierce.
Joan Crawford defined maternal suffering and won an Oscar in the melodramatic turned film noir 1945 adaptation of Mildred Pierce. Ann Blyth matches Crawford as her viperish daughter, Veda and scored a deserved Oscar nomination. Also, we can savor the wonderful scene stealer, Eve Arden getting her only Oscar nomination as Mildred's best friend. Director Michael Curtiz (Casablanca) keeps the drama firing on all cylinders in this film classic.
Kate Winslet finds the human core of the melodrama in the 2011 TV miniseries adaptation of Mildred Pierce and wins an Emmy award. Director Todd Haynes gives this more faithful adaptation of the novel a realistic tone and a loving recreation of the Depression era look. The result is very different but memorable in its own way.
Crawford's image as a loving mom took a beating in the film adaptation of her daughter's memoir from 1981, Mommie Dearest. Faye Dunaway goes for broke attempting to channel Crawford's mannerisms and theatricality into a polarizing performance that was a runner up for the New York Critics Circle Award for Best Actress but was still derided by others.
While we barely actually see her in Alfred Hitchcock's Psycho, Norman Bates' mom still manages to dominate the film. We get a strong sense of her parenting style which, to put it delicately, wasn't ideal. Hitchcock's film is famous for several sequences but worth watching all the way through for the mounting sense of dread and horror that live in that dusty motel just off the beaten path.
As the rock of stability and love that strives to protect her family against the difficulties of Dust Bowl and the Great Depression, Jane Darwell won an Oscar as Ma Joad in the 1940 adaptation of The Grapes of Wrath. Director John Ford won the second of his record setting four Academy Awards for Best Director for this moving depiction of economic strife.
Movies & Music - Question of the Week
Which of the following TV characters is NOT a mom?
Last Week's Trivia Answer: Sukiyaki