Every week each of our Movies and Music Library Team will be bringing you the best of what we're watching and listening to so you can enjoy it too.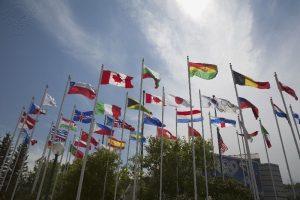 Juan's Picks
The seemingly ubiquitous internet has made the ability to share music, art, and culture a relatively effortless aspect of our modern lives. Anyone living in the United States that has been able to listen to BTS or any other international superstar can attest to this observation. In keeping with our theme this week, international crossovers, I will be highlighting some of my favorite artists whose country of origin is not the US but that nevertheless have achieved a level of mainstream success in the US.
Perhaps one of my earliest memories of growing up in the US was listening to Shakira's 2001 hit Suerte and its English translation Whenever, Wherever (both tracks can be listened to on the Laundry Service album). Being bilingual and bi-cultural, I particularly enjoy being able to uncover the nuances of each song's respective version. Hailing from Columbia, Shakira's songs and artistry are a part of a robust Latin influence present throughout American music.
Camila Cabello's eponymous album, Camila, was the Cuban-born singer's first album which set some impressive records on its first day of release. The Dutch singer Johannes Bouwens (who goes by the artistic name George Baker) wrote the upbeat and lighthearted Una Paloma Blanca which I have heard covered by a variety of different bands throughout my time here in the US. The artists that I've mentioned here are some of my favorite artists to listen to whose music I didn't discover until I was in the United States. Can you recall any songs that you heard for the first time outside of your home country?
While the internet may provide access to the world's music and film in only a few mouse clicks, libraries all over the world continue to be trusted stewards of art, music, and information by entrusting that all have access to these invaluable human objects regardless of means. Please visit your local library and see what you may discover!
Sarah's Picks
Sometimes a movie or series is so popular, it gets picked up and remade internationally...
The Swedish film The Girl With the Dragon Tattoo, based on the novelof the same name, was made again just two years later with Rumi Mara playing the protagonist in the American version.
When The Office came out in the UK it was a big hit, so it was adapted for an American audience starring Steve Carell, and is known internationally as The American Office.
One sitcom with a lot of longevity is Everybody Loves Raymond, which has been picked up in seven other countries. You can learn more about it in the documentary Exporting Raymond.
Diana's Picks
Funny Games is a hard to watch but important Austrian film with a timely message about violence in media and how we consume it for entertainment. Director Michael Haneke did a shot for shot American remake of this grueling 1997 home invasion film in 2007. The remake, which features Naomi Watts and Tim Roth can be viewed on Kanopy here!
The beautifully shot French 1960 horror film Eyes Without a Face influenced a large number of films and unofficial remakes from a variety of countries including the US and Italy, but one that feels like a close reimagining of the film is the 2011 Spanish sci-fi/thriller The Skin I Live In, directed by Pedro Almodóvar. Both films center on a doctor/scientist dealing with the grief and guilt of losing or almost losing a loved one and going to great lengths to bring them back to avoid dealing with their own agony.
Open Your Eyes (Abre Los Ojos) is another great film from 1997 that got an American remake. This Spanish psychological thriller is about a handsome man who becomes disfigured in a car accident which changes his life drastically, there are a lot of twists in this film and the end result is a thought provoking exploration of a loss of identity. The 2001 American remake titled Vanilla Sky also features the same lead actress from the original, Penelope Cruz.
The 1998 Japanese horror film Ringu, (also available here through Kanopy) based on the novel of the same name, is about a mysterious videotape that kills anyone who watches it in 7 days. In 2002 the American remake, The Ring was released, which horrified audiences worldwide and is considered by many to contain some of the scariest horror movie moments.
Some musicians that have had International success outside of their home country are ABBA, a Swedish band that became highly successful in the UK and US in the 1970s and 80s. Rammstein is another band that developed a devoted fanbase outside of their home country in Germany, they have songs in both German and English on their albums. Their sound is a perfect blend of Industrial and Metal, with mixes of EBM and other genres. We have a few of their albums available for checkout, but I would recommend starting with Sehnsucht.
With the US generating a lot of worldwide hits in film and music, it's sometimes easy to forget the great movies and music that come from around the world.
La Cage Aux Folles from France was an international success, garnering an Oscar nomination for Best Director.  It also lead to the delightful remake, The Birdcage with Robin Williams.
South Korean director Bong Joon-ho is no stranger to international success thanks to great films like the horror/comedy The Host or the fascinating Memories of Murder but nothing in comparison to the first film to ever win both the Best International and Best Picture Oscar, the international mega hit, Parasite.
The incredible South African singer Miriam Makeba had a huge worldwide hit with the joyful "Pata Pata". Her incredible live album Miriam Makeba in Concert concentrates the joy and activism that defined her career.
Paul Simon's tour de force of cultural fusion, the Grammy winning Graceland walks a tightrope between Simon's razor sharp poetic lyrics on themes of redemption/chaos and the kaleidoscope of musical styles from zydeco to the music of South Africa. Simon also had a lesser success with his integration of South American music and his own in The Rhythm of the Saints.
Movies & Music - Question of the Week
What is the English alternate title of Kyu Sakamoto's international hit, "Ue o Muite Arukō" ?
Battle Without Honor or Humanity

0
Last Week's Trivia Answer: The Preacher's Wife