Silicon Valley Reads, a community engagement program that celebrates the power of books to bring people together, has announced that its theme for 2024 will be, "A Greener Tomorrow Starts Today." The program will focus on environmental sustainability, with a selection of books and events that explore the challenges and opportunities of creating a more sustainable future, not only in Santa Clara County but worldwide.
After commemorating 20 years of community programs in 2023, Silicon Valley Reads is back with a renewed commitment to foster collaboration and create awareness around the importance of sustainability.
Silicon Valley Reads is presented annually by the Santa Clara County Library District, Santa Clara County Office of Education, and San José Public Library, in collaboration with public libraries, community colleges, universities, and community organizations.
For more information about Silicon Valley Reads and plans for 2024, please visit Siliconvalleyreads.org.
Featured Titles:
"All We Can Save" showcases the wisdom and experiences of dozens of women actively contributing to environmental initiatives in the United States. These women are scientists, journalists, farmers, lawyers, teachers, activists, and innovators, who all come from different backgrounds. Their diverse perspectives offer a range of ideas and insights on how we can swiftly and significantly reshape society for a sustainable future.

Environmentalist Heather White offers an accessible guide to taking action for a more sustainable world. Through heart- warming and humorous anecdotes from her upbringing in East Tennessee to her experiences parenting in Montana, White demonstrates how people can contribute to the environmental movement. She encourages self-discovery, helping readers align their personalities, interests, and strengths with meaningful actions.

Set in a world where Florida faces the relentless onslaught of extreme weather and rising sea levels, "The Light Pirate" is the story of a small coastal town preparing for a powerful hurricane. Divided into four parts—power, water, light, and time—this GMA Book Club pick novel mirrors the rhythms of the elements and the gradual transformation of the world as we know it. It serves as a contemplation of changes that challenge our comfort zones and a reminder of the untamed beauty and strength of nature.
---
Children's Companion Books

One person.
Small, fleeting, insignificant.
But when one person, and one person,
and one person become many,
they can change a planet.
Spare, poetic text and breathtaking pictures invite readers on a stirring journey that gently illuminates the causes of climate change as well as how our individual and collective actions can make the world better. Meticulously researched and brimming with beauty, hope, and hands-on solutions that will edify and empower even the youngest readers, this loving ode to our planet is vital for every child and family.

After years of harsh monsoon seasons, a forest on the river island of Majuli is in danger of being slowly washed away. Jadav, a boy living on the island, is determined to save the forest he loves. This is the true story of how one young boy dedicated his life to creating and cultivating an expansive forest that continues to grow to this day. In a world impacted by climate change, Jadav Payeng's inspirational story shows how one person's contributions can make a difference in helping to save our environment.
In the Sierra Nevada mountains of California, Akira and her horse struggle to escape a massive wildfire.
In Churchill, Manitoba, Owen and George flee starving polar bears that have been stranded on land by melting sea ice.
In Miami, Florida, Natalie fights to keep her head above water–and save her neighbor's dog–as her city drowns in a hurricane.
Though they live thousands of miles from each other and face disparate challenges, Akira, Owen, George, and Natalie will come to understand they are more deeply connected than they ever could have imagined–and in ways that will change them and, possibly, the world.
Four different kids. Three different threats. Two degrees of temperature rise. One single cause: Climate change.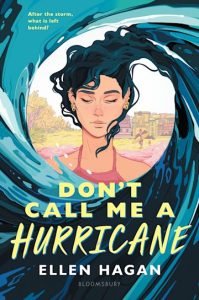 It's been five years since a hurricane ravaged Eliza Marino's life and home in her quiet town on the Jersey shore. Now a senior in high school, Eliza is passionate about fighting climate change-starting with saving Clam Cove Reserve, an area of marshland that is scheduled to be turned into buildable lots. Protecting the island helps Eliza deal with her lingering trauma from the storm, but she still can't shake the fear that something will come along and wash out her life once again.
When Eliza meets Milo Harris at a party, she tries to hate him. Milo is one of the rich tourists who flock to the island every summer. But after Eliza reluctantly agrees to give Milo surfing lessons, she can't help falling for him. Still, Eliza's not sure if she's ready to risk letting an outsider into the life she's rebuilt. Especially once she discovers that Milo is keeping a devastating secret.
Told in stunning verse, Don't Call Me a Hurricane is a love story for the people and places we come from, and a journey to preserve what we love most about home.
Feb 10th | 2:00pm - 3:30pm

Feb 21st | 4:00pm - 5:00pm

Mar 23rd | 10:00am - 12:00pm
Celebrate 20 Years of Silicon Valley Reads