Full Service Computers
Log In and Computer Use:
Reserve a computer on a first-come, first-served basis for up to 3 hours per day! Enter your library card number and PIN to sign in to a computer.
If all computers are in use, you may get in the queue at the waitlist computer.
After the first hour, you may need to sign up to the waitlist if computers are busy.

Woodland Branch Library: After 30 minutes, you may need to sign up to the waitlist if computers are busy.
Remember to save your files to a USB or email them to yourself. Files are deleted when your session ends.
Computer Filters:
Library computers are equipped with an optional commercially-produced filter, which blocks sites that might be considered objectionable. After logging on, computer users have the option to turn on the filtering software.
Laptop Lending:
In addition to the desktop computers described above, learn about laptops that the library lends for use within some libraries.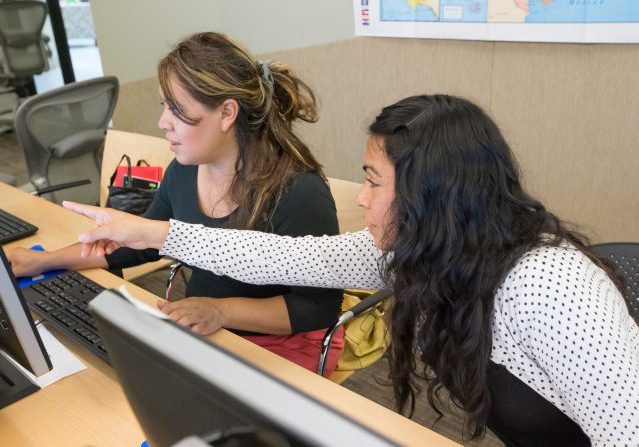 Available Software
Library computers include Internet Explorer, Google Chrome, and MS Edge browsers, a Calculator, and a Snipping Tool, as well as many software programs from the Adobe Creative Suite, Microsoft Office, and beyond. Find tools for document publishing and other office work, graphic design, photo and video editing, computer coding and more.
Graphics & Media:
20+ Adobe Creative Suite programs, including Photoshop, Illustrator, InDesign, and more!
Camtasia
CyberLink Media Suite
MS Visual Studio and Blend for Visual Studio
Windows Media Player
Business & Office:
Microsoft Office programs, including MS Word, Excel, PowerPoint, Publisher, Access, and more!
Adobe Acrobat
Ultimate Phonics
WinWay Resumé Deluxe
Visit the Available Software page to learn more about the programs installed on library computers.
ADA Computers
ADA Computers are full service computers with large-type keyboards and screens for the visually- and hearing-impaired.
ADA computers provide access to ZoomText, opens a new window, which offers screen magnification and screen reading. To enable the screen reading function, please have your headphones connected before you open ZoomText.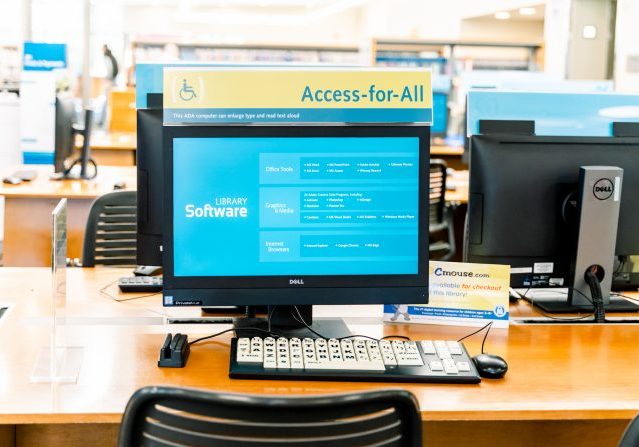 AWE Early Literacy Computers
AWE stations are available for kids ages 2–10.
AWE stations offer 50 educational software programs in the areas of music, science, math, history, geography, phonics and problem-solving.
Both Gilroy Library and Morgan Hill Library also offer the literacy station's bilingual edition, with programs available in English and Spanish.
Learn more about the AWE Early Literacy Stations and the programs they offer.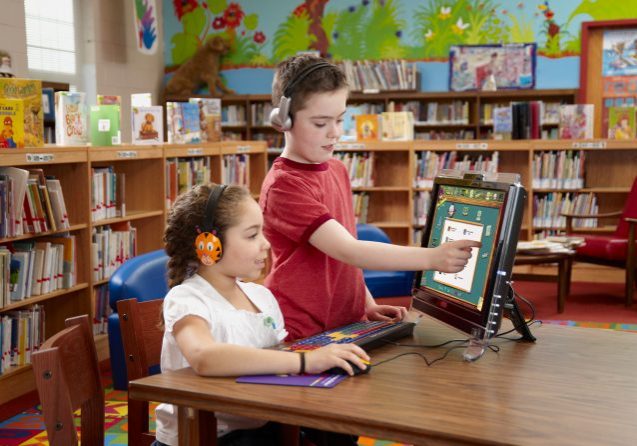 Children's Computers
Children's computers are for children ages 14 and under. All computers in the children's area have the same hardware and software as adult computers.
A child using an adult's card will not be able to sign in on the children's computers. All ages are welcome to sign up for a free library card for full access.
Filters for Children's Computers:
All computers in the children's area have filtering software enabled, which blocks sites that might be considered objectionable.
Visit Safe Kids.com, opens a new window for tips and information on online safety and civility.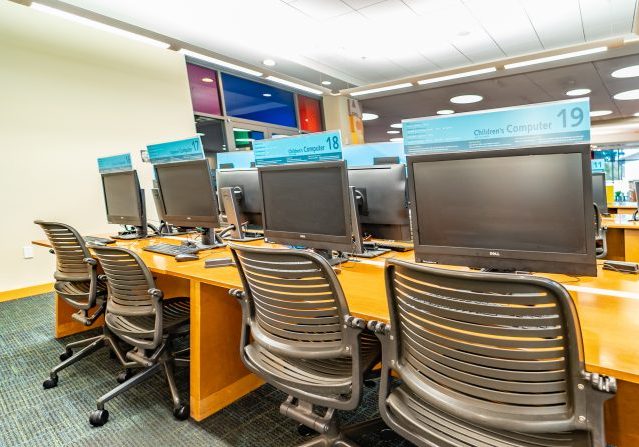 Catalog eResources Computers
Catalog computers, located throughout the library, provide access to:
The Library Catalog
Your Account

Log in to place holds and see your current checked out items.
Remember to log out when finished.
Not Available: Internet and software applications.