Community Room: Orchard Room Usage Requirements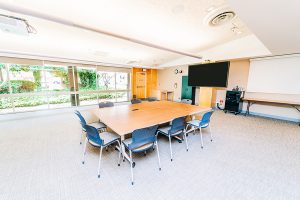 Groups must read and adhere to the following usage requirements. Permission to use the room will be granted upon the condition that all rules for use are followed.
Fee
A non-refundable fee is required for each use of the Orchard Room: $25 for up to 4 hours, or $50 for over 4 hours up to 8 hours.
Payment must be made in person within 7 days of approval of the booking.
Acceptable forms of payment are: cash and check.
Reservations
A group may use the Orchard Room only once per month.
The reservation time should include set-up and cleanup time.
Reservations may be made online up to 3 months in advance.
User making the reservation must be 18 years old.
Please allow for at least 2 business days for an approval decision.
All publicity for programs must include a contact phone number other than that of the Los Altos Library and must not imply that the library is sponsoring the program.
Check-in
Notify staff at the Accounts Desk that your group has arrived and when the program is over so that the doors to the lobby can be unlocked/locked.
Groups using program room after 7pm need to arrive before 6:45pm
Room Setup
The group is responsible for arranging the chairs and tables before the meeting.
The following items are available for use:

100 stacking chairs
10 folding tables
Podium
White board
Projection screen
Sink

The group shall provide all needed equipment not listed above including television, DVD player, projector, etc. All such equipment existing in the room is for library use only. Staff assistance is not provided for room or equipment set-up.
Nothing should be posted on walls or doors.
High wattage equipment is not permitted.
During the Program
Noise level should be appropriate for a Library.
Food and alcoholic beverages are not permitted.
Only service animals are allowed.
Cleanup and Exiting
The group is responsible for clean-up and the room must be left in good condition.
The group is responsible for putting the chairs and tables back after the meeting.
Please turn off the lights, close the doors, and notify staff at the Account Desk when you leave.
For meetings that end after the Library has closed:
Make sure that no one is left in the Orchard Room and restrooms.
Please turn off all lights in the Orchard Room and restrooms.
Ensure that the exterior lobby doors are locked.
Book a Room
Reserve a small or medium room for group study, discussions, or projects, or a large room for community events and activities.