Are you planning a family camping trip?  Camping is a great way to create family memories, explore the great outdoors and develop new interests.  The following library books may help you plan your trip.  My Road Trip Activities for Kids blog lists additional activities.  If you are staying home, see my blog Have a Camping Adventure at Your Own Home! for some ideas!
Books for kids to get familiar with camping:  Let's Go Camping by Suzanne Slade and Cool Backyard Camping-Great Things to Do in the Great Outdoors by Alex Kuskowski provide kids with an overview of camping.  
.
.
.
.
.
.
Books for parents to read about camping activities:  For outdoor activities, games, recipes, songs, and crafts, read Camping Activity Book for Families by Linda Parker Hamilton.  The Down and Dirty Guide to Camping With Kids:  How to Plan Memorable Family Adventures and Connect Kids to Nature by Helen Olsson contains information about trip planning, selecting gear, organizing the campsite, boredom busters and first aid and safety.  Sleeping Bags to S'Mores by Heather Balogy Rochfort provides fun advice for tent camping, car camping, and backpacking with kids.  Let Them Be Eaten by Bears:  A Fearless Guide to Taking Our Kids into the Great Outdoors by Peter Brown Hoffmeister coaches parents how to set practical goals and expectations for excursions to avoid disappointment. Try Hiking and Backpacking with Kids:  Proven Strategies for Fun Family Adventures by Molly Absolon if your are including backpacking.
.
.
.
.
.
.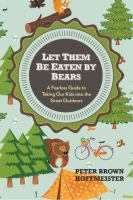 .
.
.
.
.
.
Books for kids to read about camping activities: Camp Out!  The Ultimate Kids' Guide, From the Backyard to the Backwoods by Lynn Brunelle provides 174 activities including knot tying, campfire cooking, using a compass, marking a trail, identifying plants and animals, weather watching, and stargazing.  Best for kids ages 8+.  The Young Adventurer's Guide to (Almost) Everything:  Build a Fort, Camp Like a Champ, Poop in the Woods-45 Action-Packed Outdoor Activities by Ben Hewitt is best for kids ages 11-17.  My Great Outdoors Book by Josie Jeffery provides activities for home and camping.  
.
.
.
.
.
.
Books about campfire cooking:  Easy Campfire Cooking by Georgia Pellegrini provides a variety of ways to cook with camping-stick, skewers, foil packets, skillet, Dutch oven and on a grate.  Try "pizza on a stick" with sausage links, bell pepper, onions, mushrooms, tomatoes on a stick wrapped with a 1 inch strip of biscuit dough, then sprinkle with Mozzarella cheese and dipped in pizza sauce after cooking.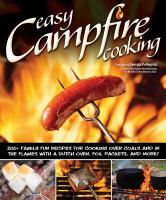 .
.
.
.
.
.
Books with campfire songs:  Enhance your family campfire with some traditional songs found in Campfire Songs:  Lyrics and Chords to More than 100 Sing-Along Favorites.
.
.
.
.
.
.
Scary stories books to read aloud at night:  Beneath the Bed and Other Scary Stories is geared for kids ages 5-7.  For spine-tingling spooky stories for older elementary and older, try Alvin Schwartz's Scary Stories to Tell in the Dark series.
.
.
.
.
.
.
Enjoy some picture books and easy reader books about camping.