Fees may be paid in-person (using cash or check) or online.  Online payment options are provided below.
Pay Fees Online
Pay fees directly through your account in the online catalog. Just login, choose the Fees option in the menu, select your payment choices, and complete your transaction with PayPal. An alternate way to pay fines online is using SmartPay, described below in the Donate section.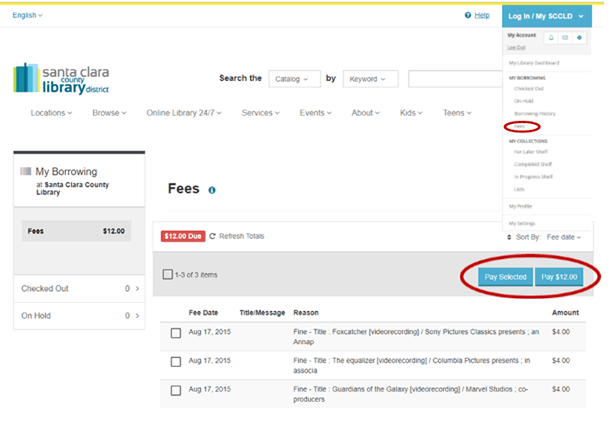 xxxx
Pay Fees or Donate Using SmartPay
There are various ways to support the library through your donations.
Use SmartPay to donate money (or pay your fees, see section above) with a credit card. To make a donation via the Smart Pay system to a specific Library or library program, please add a note in the "Your Message" field.  If this field is blank, the donation will be used for library materials.  If you prefer to use cash or check, visit any one of our libraries or mail in your payment.  We sincerely appreciate your contributions to library services.  Thank you!
The Santa Clara County Library District does not collect or store any personal information, or credit or debit card processing data collected from the PayPal or SmartPay sites. The Santa Clara County Library District is not responsible for any breach of security with respect to data collected or stored by PayPal or SmartPay, nor is the Santa Clara County Library District responsible for PayPal or SmartPay's compliance with applicable federal and state laws and regulations, including but not limited to California Civil Code Sections 1798.29 and 1798.82. If you have any questions regarding confidentiality or security of your information, please contact PayPal (https://www.paypal.com/va/webapps/mpp/ua/privacy-full) or SmartPay, Comprise Technologies, Inc.
When you click on the button "Go to SmartPay" you will be leaving the Santa Clara County Library District website and directed to SmartPay, an online resource to donate to the Library. Please be aware that policies that apply to the Library and its website may not be the same as the terms of use for other websites. Technical requirements and services are the sole responsibility of SmartPay. By proceeding you agree to accept and assume all risks and responsibilities for the losses and damages that may arise from your use of SmartPay and release the Santa Clara County Library District from all liability.