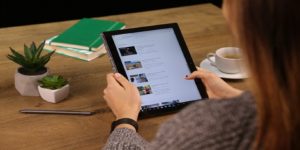 Santa Clara County Library has a fantastic collection of electronic resources, but it can be a bit of a jungle to hack through if you aren't familiar with what's available to you through your library card. Let librarian Bryant be your safari tour guide to the vast wilderness of online library resources!
He will take you through the basics of how to access digital eBooks, eAudiobooks, Movies, TV shows, Music, Newspapers, and magazines. Learn about some of the more hidden features of these resources to turn you into a real power user. All Safari Tour programs will take place virtually through Zoom. Sign up below for a session to receive a conference link to join in a live demonstration and get your questions answered!
To learn about eBooks and eAudibooks through OverDrive/Libby, cloudLibrary and RBDigital Oneclick audiobooks sign up here. Thursday, 6/4/20 at 2 p.m.
To learn about streaming movies, TV shows, and music through Kanopy, Freegal, etc. sign up here. Thursday, 7/2/20 at 2 p.m.
To learn about online newspapers and magazines through Flipster, RBdigital, and PressReader sign up here. Thursday, 8/6/20 at 2 p.m.
Begin exploring our online library today! All you need is a Santa Clara County Library card and a device that has an internet connection.