Down by Station is a song for storytime from old time America. Chug along and share a storytime with your child that is home-grown music and more. Chugga chug to songs and fingerplays print-out here.
1. Listen to the Podcast that goes Choo! Choo! 
2. Books to sing about:
Down By the Station, by Slim Gaillard & Lee Ricks, 1948
Down by the station
Early in the morning
See the little pufferbellies
All in a row. 
See the station master
Turn the little handle
(Put your hand up like you are reaching to turn a handle.)
Chug chug toot, toot!
(Hold your hand in a circle like it's a whistle to your mouth.)
 Off they go!
4. Early Literacy Tip - 
Cultural Literacy
In Episode 9: Down By the Station, the Pre-Literacy Tip is on the importance of cultural literacy.
     When you sing "The Wheels on the Bus" with your child you are teaching them about our culture. The seemingly simple songs we sing together with children are part of a common thread that weaves us together.  When we sing the songs that have been handed down, we are connecting to people today and to the generations before us. 
    When you sing, "The Wheels on the Bus," a song that was made-in-America, you will remember your own experience with that song if you grew up singing it and that too will become part of your child's experience. We can tell them about our history, our relationship to a song, but also with feelings that bloom when we sing these memories of our childhood. 
      If you are new to America and first experience this song as an adult, you are weaving the song into your own attachment to your new home and community and to your child's growing up in our country. 
    Cultural literacy is having a knowledge base, a capital, a currency in the day to day popular songs and stories that connect us to one another.  A community, a country, is only as strong and healthy in what common threads of connection we all share, no matter our differences. 
     That's why I'm devoting Episode 9-Down by the Station: Old Time Songs for Children from America, Part I, to our rich common heritage with songs from America's past that live today.  Episode 10—The Little Red Caboose: Old Time Songs for Children from America, Part II will continue with this theme because there is so much to share! 
               See you at Storytime, Lauren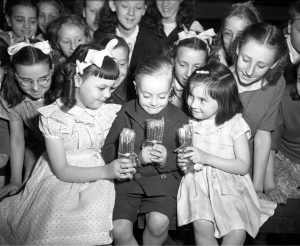 Hello!
I'm Lauren Teixeira, Children's Librarian and Podcaster.
Find more Seedlings podcast episodes on my blog page:  sccld.org/author/laurenjoan/
You can also find episodes of the Storytime Seedlings Podcast through your favorite podcast site (Apple Podcasts, Google Podcasts, Stitcher, Spotify, Listen Notes, and TuneIn), subscribe today!