Santa Clara County Library District 1914 – 2014
A Celebrated Past; An Exciting Future
1914 – 1923
Santa Clara County Library District established
This period was dominated by World War I and its aftermath. The war began in August, 1914 and continued for the next 4 years.
---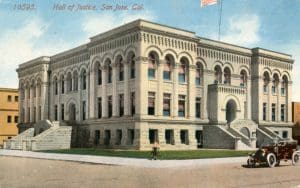 July 1, 1914 - Santa Clara County Library was established in the Hall of Justice, which was located on the corner of Market and St. James Streets in San Jose, California. Two years earlier, a one-cent tax had been levied for the purpose of supporting a county library. It provided $3,700 for the first year of operation.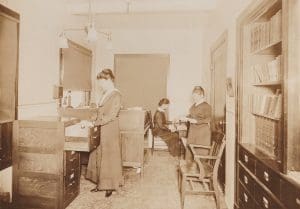 1914 - Miss Stella Huntington was appointed as the first County Librarian (1914-1925). To begin operations, she purchased a typewriter, dictionary, and a desk with two chairs. In the first year of service the collection consisted of "6,127 books and reached a circulation of 49,048." (San Jose Mercury News, June 28, 1934)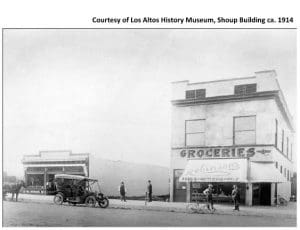 July 25, 1914 – Los Altos Library was the first library to be established under the new county library system. C.E. Minor, a Los Altos land agent, made the County a proposal it couldn't turn down. For $5 a month, he would open and run a library with 50 books in his land office at First & Main Street. In the next few years the library was housed in various locations including the Copeland Building, the Shoup Building and Scout Hall.
1914 - Morgan Hill Library was the second library to be established under the new county library system.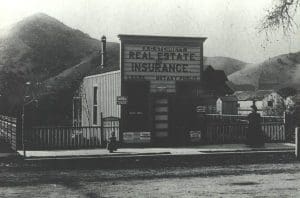 It opened in the Goold's Department Store on the corner of 2nd Street and Monterey Road, and offered a few shelves of books behind a curtain. Open hours were from 2 p.m. - 5 p.m.  Before incorporating with the County Library system, Morgan Hill Library had maintained a "traveling library" with cases of 50 books.
1914 - The Saratoga branch was incorporated as the fourth branch library. It was located in the drug store of George S. Buckley. His wife Clara Buckley was the first librarian.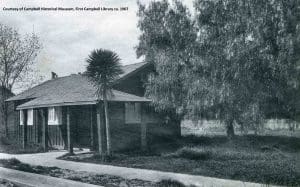 1914 - Campbell Library was the fifth branch to be established.  Housed in a one-room building known as the Campbell Library and Clubhouse, its first librarian was Mrs. Ellen Lewis.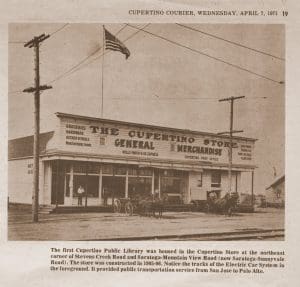 November 16, 1914 - The Cupertino branch was incorporated. It was housed in the "Cupertino Store located on the northeast corner of Stevens Creek Road & Saratoga-Mountain View Road (now Saratoga-Sunnyvale Road)." (Cupertino Courier, April 7, 1971, p. 19)   Miss Fanny Jollyman was the first librarian and she attended to a collection of 50-75 books on 4 shelves within the store. The library was in existence until 1946 when the owner, Mr. Archibald Wilson, sold the store.
1921 – Saratoga Library moved to the Sunday School Room of the old First Christian Church on Big Basin Way. Mrs. Nell C. Emrich was appointed the librarian at that time.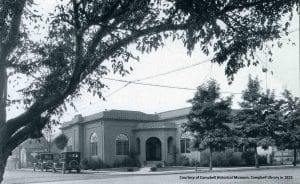 1923 – Campbell Library moved to a beautiful building, known as Briner Hall. It was built for the library by the Country Women's Club of Campbell.
1924 – 1933
New technology embraced; public access to library services improved
The Roaring 20's Lead up to the Great Depression
---
1925 - Miss Elizabeth Stevens, later Mrs. Elizabeth Singletary, was appointed as the second County Librarian (1925-1959).
1926 – Braille books were added to the collection.
November 7, 1927 – A formal dedication ceremony took place for the newly constructed Saratoga Library, on the corner of Oak Street and Los Gatos Road. The Saratoga Foothill Club and Sheldon P. Patterson were instrumental in raising the funds, with a total building cost of $12,000. The architect was Edward (Ted) Spencer of Oakland, Ca. In 1929 the library was dedicated in Patterson's memory. It stayed in operation until December 1981. The Friends of the Saratoga Library took over the building in 1983 to run the Book-Go-Round, which is still in use as a used book store that raises funds for the Saratoga Library.
1928 – Book Reviews were broadcasted over radio KQW. Every Saturday evening at 6:15 p.m. short reviews of the best books of the week were given. In some instances noted authors were also invited to speak about their own work or other literary subjects.
December 1, 1931 – Morgan Hill Library relocated to the Miller Building at the corner of Encina Avenue and Monterey Street. Mrs. Violet Carlton was appointed the new Morgan Hill Librarian.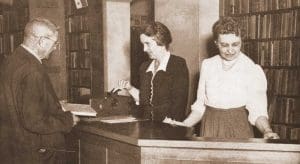 1932 - The Library operated on a budget of $25,000 and had a total of 30 branches.  In December of that year, the County Library assumed responsibility for library service to all County schools except those in San Jose, Palo Alto, and Santa Clara City.
February, 1933 – The first "Automatic Charging Machines" were installed at the loan desks.  The Santa Clara County Library was the first in the State of California to install machines to relieve the workload of librarians and to increase efficiency.
"This robot stamps the borrower's number and the date on the book card… The book card that it stamps is filed at the Library and amounts to a receipt from the customer for the volume he is taking away with him." (Mercury News, Oct 9, 1948)
1934 – 1943
Library strives to meet needs of residents during Great Depression
This era was dominated by the Depression, the Dust Bowl, and finally WWII.
---
December 6, 1934 – The library checked out its one millionth book since opening in 1914. The library checked out 1,037,556 books to 35,866 patrons. In addition, 92 branch libraries were maintained, 60 of them in schools , and 33,662 books were repaired and rebound by workers who were part of the State Emergency Relief Administration (SERA).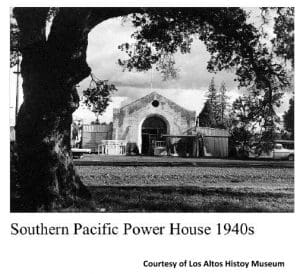 1935 - Books in Chinese were donated to the collection by the private library of N.J. Bostwick. Among the items were an English-Chinese dictionary, travel books in Chinese and an English-Chinese Bible.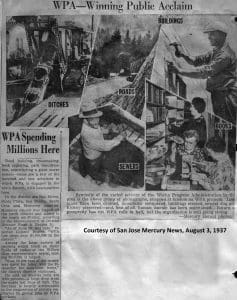 1936 – The Los Altos Library moved to the refurbished power station that belonged to the Southern Pacific Company.
1937 – Santa Clara County Library participates in the Works Progress Administration (WPA) program. The program spent over $4,500,000 in the ninth district, which included San Mateo, Santa Clara, San Benito, Santa Cruz, and Monterey Counties. Workers were engaged in road building, dressmaking, book repairing, park beautification, and constructing a giant sewer system.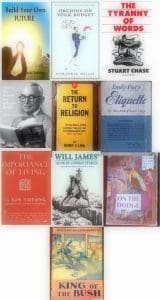 1937– Nonfiction was the new reader trend. Self-improvement books were for many the most important reading. The most popular book was Life Begins At Forty by Walter B. Pitkin.
Additional popular titles were Build Your Own Future by David Seabury, Orchids on Your Budget by Marjorie Hillis, Tyranny of Words by Stuart Chase, How to Win Friends and Influence People by Dale Carnegie, Emily Post's Etiquette, Importance of Living by Lin Yutang & Return to Religion by Henry C. Link
In the fiction field, Westerns were trending like Will James' Book of Cowboy Stories & On the Dodge and King of the Bush by William Raine
1940 - 1942 – The County Library participated in the nation-wide book drive for soldiers, sailors, and marines. Among the desired items were detective and western stories as well as "how-to" books.
1944 – 1953
Library increases services to rural county areas
This decade marked the end of the war and the depression, and began an era of prosperity and growth – and the baby boom!
---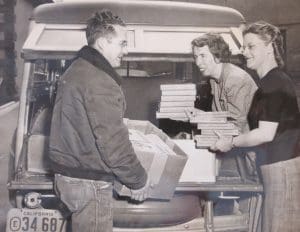 1947 - The County Library acquired a station wagon to deliver books to the County branches. By 1949 its route covered 1,000 miles a month, and delivered between 13,000-15,000 books.
1948 - Morgan Hill Library operated from the annex of the Friendly Inn with Mrs. Walter Graeb as librarian.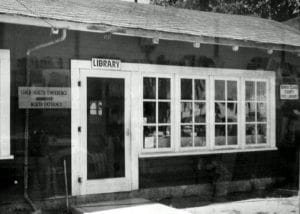 October 1949 – The County Library opened on Saturdays and offered a Phone Number (CYpress 5-2388) for patrons to call in with their reference questions.
June, 1953 – The County Library purchased its first Bookmobile in the colors of green and ivory. It housed 2,500 books and was equipped with a heater, fan, lights, titled shelves, and special devices to secure the 2,500 volumes in the 7x17-foot library room.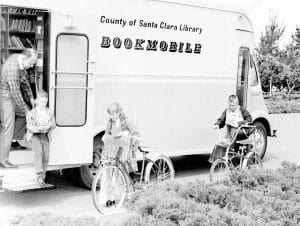 It weighed 8 to 13 tons and was built on a regular truck chassis by the Gersten-Slager Company of Ohio. Initially Junior Librarians Mary Thomas and Mamie Slagle alternated as "driver-librarians." Stops were in rural areas of the County where demand was high for library services. By 1954 there were 32 weekly stops covering 50 to 60 miles per day.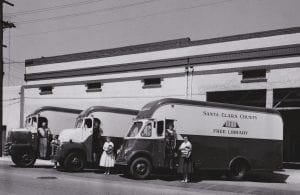 The service was immediately popular with 500 books being checked out daily. Two more bookmobiles were purchased – one in 1956 and a second in 1958 that cost approximately $22,000.
1954 – 1963
Young minds stimulated by library programs
This decade is referred to as the Golden Age. Color TV was invented, the polio vaccine was discovered, Disneyland opened, and Elvis Presley gyrated his hips on the Ed Sullivan Show. The Cold War started to heat up and the Civil Rights Movement got underway.
---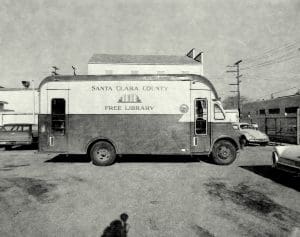 1954 – Due to over-crowded conditions, the Library Administration Headquarters moved to a new location that belonged to James Transfer & Storage Co. at 257 N. Market Street.
1954 – A new charging machine, nicknamed "Silent Susan," was purchased. It made no noise, unlike the previous model whose whirl and clatter echoed up and down the stacks. (September 26, 1954, San Jose Mercury News)
November 17, 1958 – Milpitas finally got its first county library. The first Milpitas Librarian was Mrs. Helen Mortensen. Until then Milpitas patrons could only access the collection through the Bookmobile.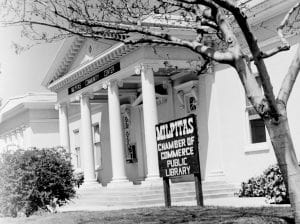 The library was established in one classroom of the historic grammar school at 160 N. Main Street and became known as the Community Center. Two additional branch locations were built. In 1963 the Calaveras Branch was established in the Fiesta Shopping Center, and in 1966 the Sunnyhills Branch opened on Dixon Landing Road.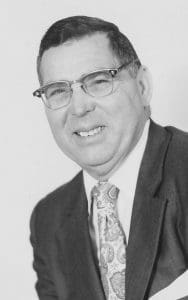 1959 – George F. Farrier was appointed as the third County Librarian (1959-1973).  The County Library Commission and similar commissions in each community are formed during his tenure.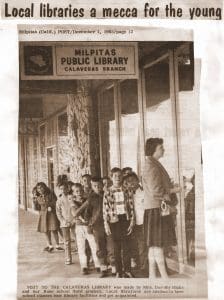 1960s - This decade saw a continued emphasis on outreach and services to youth:
1960 - In celebration of National Library Week, celebrated each year in April, students studied the card catalog and the Dewey Decimal System, referred to as the "heart of the library system."
1964 - Photo Copy Machines were introduced due to heavy use of books for school assignments. Copies cost 15 cents and only accepted exact change in nickels.
1965 – The library was a "mecca" for school visits and a quiet spot for studying.
1968 - The Federal Young Adult Library Service Project, aka "Underground Libraries Unlimited," was established at Franklin Mall on 1081 Benton Street / Monroe Street. It was the first of five satellite libraries serving young adults ages 13 to 19. The service was a federally funded grant that cost $231,000.
Among the collection and service highlights were:
Paperback books from War and Peace to Peanuts
A variety of magazines of interest to teens
Rock & Roll and R&B records
Psychedelic posters created by a part-time artist
10 watt FM radio station where teens could broadcast educational and music programs over a three mile radius
Weekly movie showings on Wednesday nights at 7.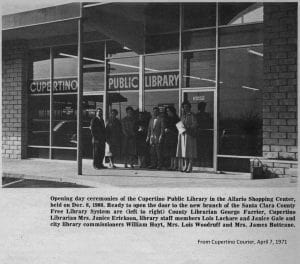 December 11, 1960 – The Cupertino Library opened in the new Allario Shopping Center at 10255 Highway 9 (corner of South Saratoga-Sunnyvale Road and Rodrigues Avenue). Mrs. Janice Erickson was the librarian in charge. More than 300 library cards were issued on opening day.
1961 - Campbell Library moved to a larger facility at the old Bernhardt market, located at Campbell and Central avenues.
December 17, 1961 – Morgan Hill Library re-opened in the Nob Hill Shopping Center on West Main Avenue.
1964 – 1974
Technology gained momentum and the library offered easier access to informational, educational, and recreational materials and services
To many, the 1960s can be summed up as the Vietnam War, hippies, drugs, protests, and rock and roll.
---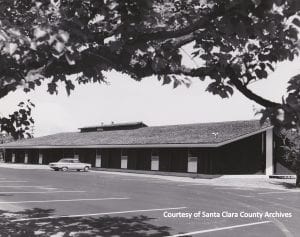 1964 – Los Altos Library was built on the current site in the Civic Center at 13 S. San Antonio Road.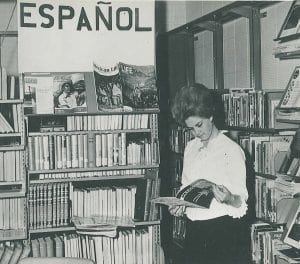 1965 – The County Library offered material in Spanish.
Among the book titles were El Cuchillo de Piedra by Olga Pineda, Roman Calvo by Alberto Edwards, Esta tierra es mia by Alice Tisdale Hobart & Dos Semanas en Otra Ciudad by Irwin Shaw
Magazines included Selecciones del Reader's Digest, Americas, Life, Hoy, Mexican Life, and Mexico This Month.
In 1968 an additional 292 books were donated by the Mexican government.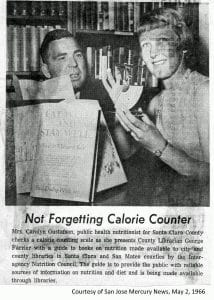 1966 – Books on healthy eating and related subjects were donated by the Interagency Nutrition Council to enable the library to offer reliable sources of information on nutrition and diet. Among the titles were books on general nutrition, teenage nutrition, weight control, and special diets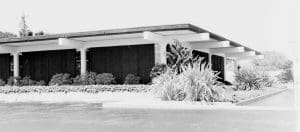 January 1967 – The Quito Park Library opened in Quito Village as a second branch in Saratoga to answer to the much needed demand of space as a result of overcrowding. It remained in operation until 1978.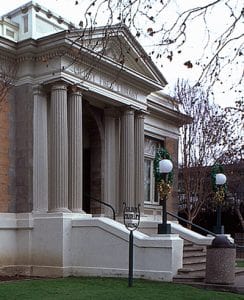 July 1, 1967 – A $10 fee for nonresidents was initiated. It lasted until 1974.
July 1, 1968 – Gilroy Library joined the Santa Clara County Library District. Prior to joining, the Gilroy Library had operated as a city library since 1906. The first librarian was Mary Briggs Ben. Since 1910, the library had been located at 195 Fifth Street. The library was constructed with a $10,000 grant from the Andrew Carnegie Foundation.
1968 – The Library added its one millionth book!  The title was "American Album," published by the American Heritage Press, and it featured rare photographs of the country's historical progress.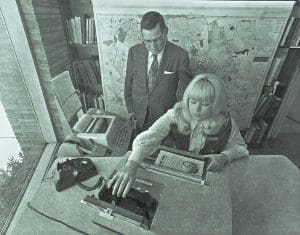 1970 - The Library participated in the Bay Area Reference Center (BARC) service connecting all locations with telefacsimile lines throughout the state and even nationwide. For the first time, the page of a book or document not available at the library could be obtained via the telefacsimile machine (TWX teletype) in an "instant." It actually took about six minutes for the printed page to be transmitted back.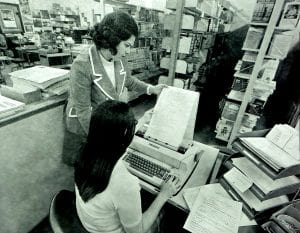 1970 - The Library began ordering and cataloging books by computer (IBM 370). 30,000 titles had already been entered into the computer-generated catalog produced in book form. Interesting predictions about the role of computers in the library dominated one article written by Patricia Loomis on January 25, 1970 for the San Jose Mercury-News.
Among her predictions within the next ten years were: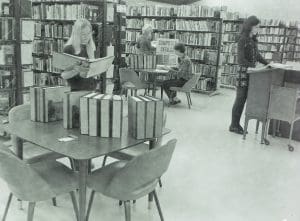 Computers will catalog books, reproduce material, program circulation and do the ordering.
Library patrons may study a page of a book or magazine on microfilm, press a button, and for 10 cents take a reproduction of the material home with them.
Books will be stored on magnetic tape to be read by hundreds of people at the same time.
Information retrieval via computer will have replaced the tedious task of researching data.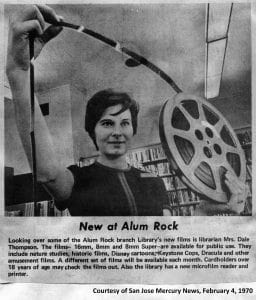 1970 – The Library expanded its film collection. For the first time 16mm, 8mm, and 8mm Super were available for public use. Cardholders over 18 years of age were allowed to check out the film reels for one day and had to return them the following day by 6 p.m.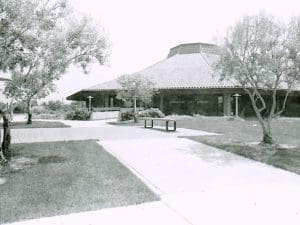 April 10, 1971 – The new 24,000 square-foot Cupertino Library opened at 10400 Torre Avenue.
1971 – The library updated its
computerized registration files. Anyone who registered in 1968 or earlier was asked to re-register. The plastic punch cards were read by a machine and those that said 1969 on them were rejected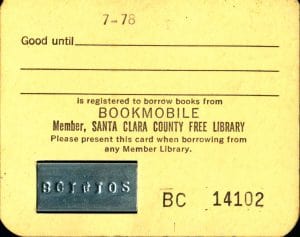 .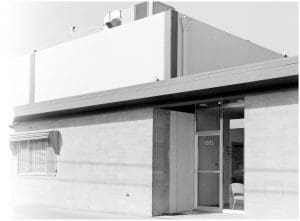 1972 – Library Administration Headquarters moved to 1095 North 7th Street in San Jose
1972- The Library participated in the Cooperative Information Network (CIN) system, which linked some 80 public, private, school, university, and hospital libraries. Queries and answers between participating libraries were transmitted by telephone or teletype.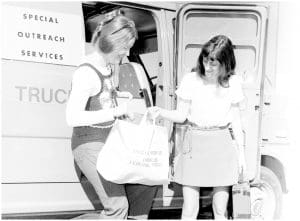 1972 – The Library offered an outreach program called "Special Outreach Services" (SOS) that delivered books, magazines, records, and films to patrons who were unable to travel to the library. The service was a federally funded project that cost $200,000 for two years. Librarians made special visits to private homes, residential care homes, convalescence hospitals and other special care facilities.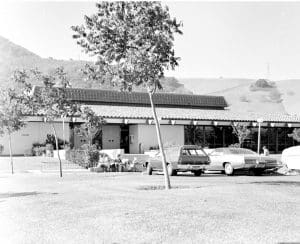 August 1973 - With bonds passed by voters, the Civic Center at Main Street and Peak Avenue became the home of a new Morgan Hill Library housing over 48,000 volumes.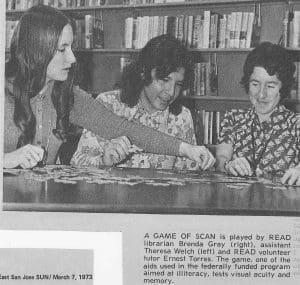 1973 - Project R.E.A.D. which stood for "Reading for Everyone - To Achieve and Develop" was introduced as a means to combat illiteracy. It was the predecessor to today's Reading Program. Trained volunteers offered free tutoring to anyone who wanted to learn to read.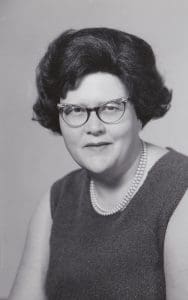 November 19, 1973 - Barbara Campbell was appointed as the fourth County Librarian (1973 – 1985).
1974 – 1984
Technology continued to expand
As disco, M*A*S*H, and computers emerged on the scene, the Watergate Scandal shocked the American public and the women's movement roared.
---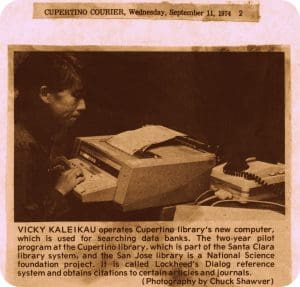 1974 - In addition to serving the homebound, the library also established a program that brought books to inmates in jail. Once a week, the library would visit the Elmwood Correctional Facility. Requests ranged from books on crocheting for women to electronics and automotive repair books for men, as well as general fiction and non-fiction.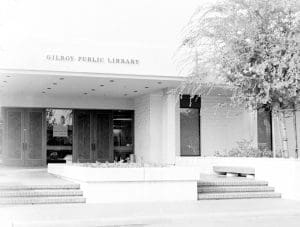 1974 - The first information retrieval system was introduced at Cupertino Library. Lockheed's Dialog Computer Reference system was installed as part of a two year trial provided by the National Science Foundation. This early database provided citations to articles and journals. However, the oldest information dated back to 1967 and only covered a few subject areas, with no coverage of the arts, literature or history. (September 11, 1974, San Jose SUN, p. 3 and Cupertino Courier, p. 2)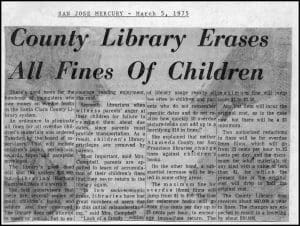 February 1, 1975 – The new Gilroy Library opened at 7387 Rosanna Street, housing 57,000 volumes. Local residents were proud of the eye-catching entrance doors, which featured Native American art. The doors were designed by Betty Richard and made of Honduras Mahogany.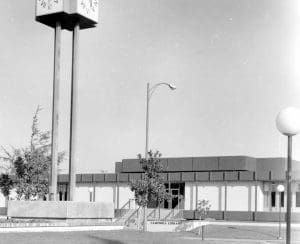 1975 - The Board of Supervisors approved an ordinance that eliminated all fines for overdue children's materials. This ordinance is still in effect.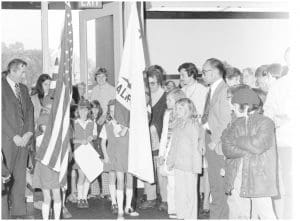 1975 – Campbell Library celebrated its grand opening at 77 Harrison Avenue with 89,000 volumes. In 1989 the library doubled its square footage, and added a second level.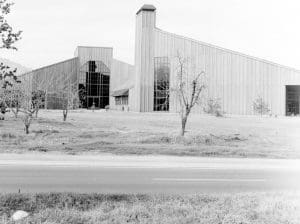 February 1976 – Woodland Branch Library opened at 1976 Grant Road to serve the residents of south Los Altos.
February 26, 1978 – The present Saratoga Library opened on Saratoga Avenue and Fruitvale. It was designed by the same Mr. Spencer who designed the 1927 Saratoga Library.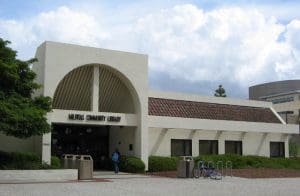 1978 – With voter approval of California State Proposition 13, library property tax revenues were cut in half.
March 1983 - The new 19,500 square foot Milpitas Community Library opened at 40 N. Milpitas Blvd.  All three of the small branches were now under one roof.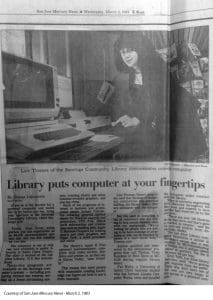 1983 – The first personal computers (Apple II) were installed at Saratoga and Los Altos libraries. They were coin operated and cost $3.00 per hour to use. Patrons were encouraged to experiment with the computer, which had a retail value of $8,500. It offered 35 programs, including preparing income tax returns, setting up a home accounting system, creating charts and other business-oriented graphics, as well as recreational and educational games such as playing chess, soccer math, telling time, word scrambler and super speller.
1984 – 1994
Access to computers restructured the workflow of core library services
As the Cold War drew to an end, major disasters like Chernobyl and the Loma Prieta earthquake occurred around the world. Icons of the era included MTV, Pac-Man, the Rubik's Cube, Michael Jackson and Princess Di.
---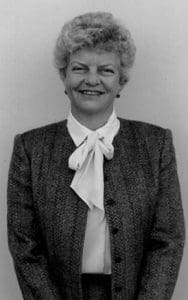 1985 - Susan Fuller was appointed as fifth County Librarian (1985 – 2002).
1985 – After 71 years of manual service, the library installed a computer-based circulation system for checking out library materials, placing holds, and statistical recordkeeping. Patrons had to register for a new blue plastic library card, which had individual codes that permitted a quicker checkout.  Before this, the system was entirely photographic. Staff members had to take pictures of the library books and due-date cards and store them on microfilm. (August 7, 1985, San Jose Mercury News)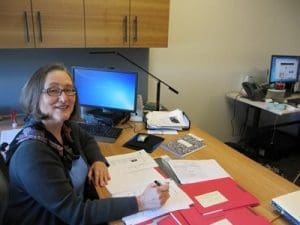 1985 - The library launched the Reading Program, which was part of a larger outreach initiative, called the California Literacy Campaign, to combat illiteracy. This literacy tutoring program is still in service today. It has been geared towards adults residing in Santa Clara County who speak English but are unable to read.
1994 – 2004
Library went on-line; offered internet access to library patrons
Increasing global communication, the rise of multiculturalism, alternative media and the explosion of the internet seemed to make the world smaller. The Cold War was replaced by ethnic cleansing in Bosnia and Rwanda. Harry Potter burst onto the publishing scene.
---
1994 – Voters passed an annual parcel tax assessment to fund the nine Santa Clara County libraries.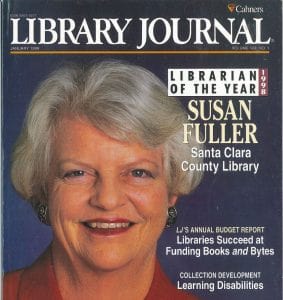 1994 – The governance of the County Library shifted from the County Board of Supervisors to the Joint Powers Authority-JPA.
1994 – The Library went online and introduced a new Online Public Access Catalog (OPAC). The new online catalog had up-to-the-minute information. ''When you dial in, it's just like you're in the library. You can search. You can see if it's in or out or you can put a hold on it," said Los Altos Librarian Carol Tefft. (February 23, 1994, San Jose Mercury News)
1998 – The Joint Powers Authority agreed to implement a commercially-produced internet filter on all computers in the children's area in order to block sites that might be considered objectionable. With the unregulated nature of the Internet and the proliferation of Web sites that offer potentially objectionable content, the issue of children's access was debated for several years. The library was not immune to the controversy while trying to adhere to its values and mission to provide an open forum for knowledge, ideas, and cultural enrichment through free access to information, educational, and recreational materials and services for all ages.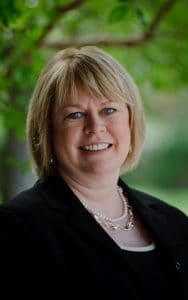 1998 - County Librarian Susan Fuller was recognized as Librarian of the Year by Library Journal.
2000 - Santa Clara County Library was ranked #1 in Hennen's American Public Library Rating Index.
2002 – Melinda Cervantes was appointed as the sixth County Librarian (2002 – 2012).
June 21, 2003 – Celebrations were held for the newly remodeled and expanded Saratoga Library. The new space included 48,000 square feet.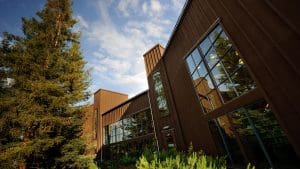 2004 – 2014
Innovative technological advances has given library patrons 24/7 access to information 
The 21st century thus far has been marked by the rise of a global economy and Third World consumerism, mistrust in government, deepening global concern over terrorism and an increase in the power of private enterprise. The digital revolution continues to dominate the world.
---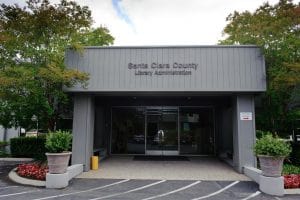 2004 ‒ The Library's administrative center moved to 14600 Winchester Boulevard, in Los Gatos.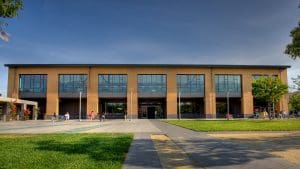 2004 – The completely redesigned and rebuilt Cupertino Library opened. A sixteen foot high aquarium with 4,000 gallons of salt water was installed near the children's area.
2005 – Community Facilities District is established and special tax rate set after district residents vote 72 percent to enhance library revenues and restore service.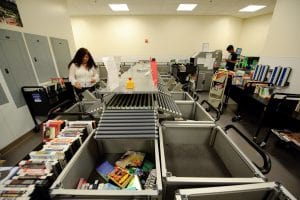 2006 - Wireless service was introduced and a new automated material handling system was installed at each library.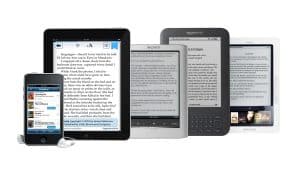 2006 – Downloadable audiobooks were added to the online catalog. Later, downloadable eBooks were added.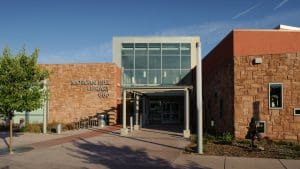 July 21, 2007 – The Morgan Hill Library celebrated the Grand Opening of its new 28,000 square foot building at 660 West Main Avenue.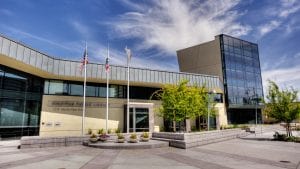 January 2009 – A new Milpitas Library, at 60,000 square feet, was built at 160 N. Main Street with redevelopment funds.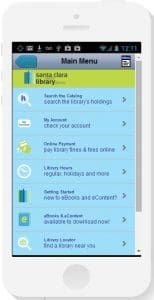 2009 – The Library partnered with Palo Alto-based mobile app developer Boopsie, Inc. to build the first native app for public libraries in order to renew books, place holds, and find library events on smart phones.
2010 – 2012 – The Library launched the next generation of online catalog developed by Toronto-based web developer BiblioCommons. This allowed for seamless integration with the Library's website, which was rebranded to reflect a more modern search environment, including faceted navigation and collection browsing capabilities. It also allowed library users to share and exchange information with fellow readers.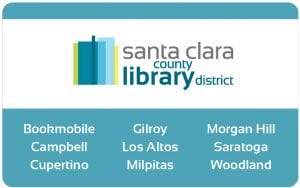 2010 – The County Library became the first library in California to offer residents free music downloads. The service is called Freegal (Free and Legal Music) and provides access to songs exclusively from Sony Music Entertainment's catalog of artists. Each library card holder is able to download three songs per week in MP3 format. The music files could be permanently saved onto computers, smartphones and other devices with MP3 capabilities. (June 20, 2010, San Jose Mercury News)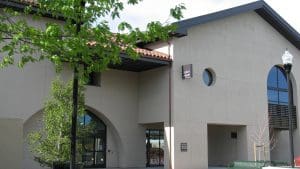 2012 – The new Gilroy Library, which was Gold LEED (Leadership in Energy and Environmental Design) certified, opened at 350 W. Sixth Street.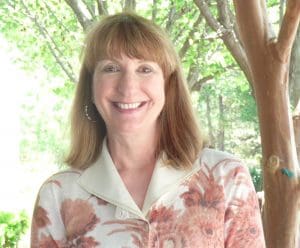 2012 – Nancy Howe was appointed as the seventh County Librarian (2012 – present).
2013 – The Library Administration (headquarters) became known as Services & Support Center and moved its offices into the first Santa Clara County Library District owned building on 1370 Dell Avenue in Campbell, CA.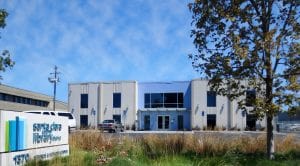 2013 – Measure A special tax rate approved after district residents vote 81 percent to continue library funding at current levels.
2014– Happy Birthday Santa Clara County Library District! All community libraries will hold celebrations from September through December for the library's centennial. Here's to another 100 years of celebrated and exciting library service!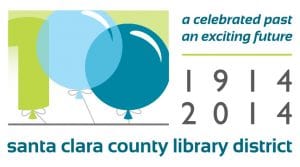 2014 - Present
Santa Clara County Library District Thrives Under Global Change
The continuing 21st century brings an even more interconnected world with numerous rising crises exacerbating global panics. The news is  dominated with severe global disruptions in the form of COVID-19, economic collapse, a global ecological crisis and societal uprisings.
2015 - Santa Clara County Library was awarded America's Star Libraries Top-Rated Libraries by Library Journal
2016 - Santa Clara County Library was awarded America's Star Libraries Top-Rated Libraries by Library Journal
2017 - A second bookmobile was purchased to accommodate expanding outreach services.
2017 - Santa Clara County Library was awarded America's Star Libraries Top-Rated Libraries by Library Journal
2018 - Santa Clara County Library was awarded America's Star Libraries Top-Rated Libraries by Library Journal
2019 - Santa Clara County Library was awarded America's Star Libraries Top-Rated Libraries by Library Journal
2020 - A new website is launched that restructured our online presence with new accessibility resources.
2020 - Santa Clara County Library was awarded America's Star Libraries Top-Rated Libraries by Library Journal
March 15, 2020 - The Santa Clara County Library District responded to the COVID-19 Pandemic by shutting down their library branches and continued to provide services to the community with an online format.
May 2020 - Jennifer Weeks becomes the 8th County Librarian for the Santa Clara County Library District.
June 2020 - Curbside Services and Material Return became available after a 3 month closure due to COVID-19