Virtual Kickoff Event on January 28th
SANTA CLARA COUNTY, CALIF. – For the past 18 years, Silicon Valley Reads has encouraged people of all ages in Santa Clara County to read books and join conversations relevant to a theme. With the many challenges, hardships and life adjustments needed throughout 2020 and into 2021, the theme for this year is CONNECTING. An array of books was chosen to embody the importance of connecting with each other and with things that bring comfort.
The Silicon Valley Reads virtual kickoff event is Thursday, January 28th at 6:30 pm in partnership with the Commonwealth Club of Silicon Valley. The featured panel includes Dr. Sara Cody, Santa Clara County Public Health Officer; Dr. James Doty, Clinical Professor in the Department of Neurosurgery at Stanford University School of Medicine and Founder/Director of the Center for Compassion and Altruism Research and Education at Stanford University; and Usha Srinivasan, President of Mosaic Silicon Valley (formerly Sangam Arts) whose mission is to strengthen diverse communities through intercultural arts. These experts will share their perspectives on ways in which individuals and communities can find comfort and connection through difficult times. There will also be a special appearance from Dr. Vivek Murthy, author of Together: The Healing Power of Human Connection in a Sometimes Lonely World and former Surgeon General. The event will be moderated by San Jose Mercury News Columnist, Sal Pizarro. Registration for the Zoom event is required and available at siliconvalleyreads.org/events.
The 2021 featured titles address relationships, nature, art, music, food, and animals. The selection provides a variety of books to help people identify with what they connect with most. The adult books include:
Together: The Healing Power of Human Connection in a Sometimes Lonely World by U.S. Surgeon General nominee Dr. Vivek H. Murthy, who describes loneliness as a national epidemic and offers solutions to help people live more connected lives.
Always Home by Fanny Singer, an uplifting memoir of her unique childhood and special relationship with her mother, famed Chez Panisse restauranteur Alice Waters.
Mutual Rescue by Carol Novello, heart-warming stories about adopted rescue animals who ultimately were responsible for "saving" their people.
The Home Place by J. Drew Lanham, a lyrical memoir about how his childhood connection with nature in the rural south established his path to become an ornithologist and ecology professor.
The Giver of Stars by Jojo Moyes, a historical novel about the Pack Horse Library Project in Kentucky in the 1930s and how books helped create strong community connections.
The Music Shop by Rachel Joyce, a charming novel about a record store owner in the 1980s with an uncanny skill at matching people with the music they needed to hear.
Four children/teen books were selected including Parker Looks Up, a picture book by Parker and Jessica Curry (illustrated by Brittany Jackson); Maybe Something Beautiful by F. Isabel Campoy and Theresa Howell (illustrated by Rafael Lopez) for grades K-3; Garvey's Choice by Nikki Grimes for grades 4-8; and The Sun Is Also A Star by Nicola Yoon for teens 14 and up.
From late January through March, Silicon Valley Reads will offer over 100 free virtual events for all ages including author visits, cultural conversations around art and music, children and teen events, weekly UNAFF in Libraries films, a wide range of free classes to virtually connect with others, and conversations about nature, birdwatching and ways in which people can connect with their community.
All are welcome and encouraged to join! See the full schedule of events online at www.siliconvalleyreads.org/events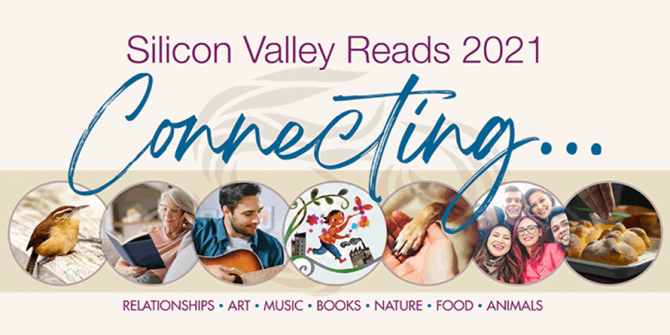 Connect with others through Silicon Valley Reads 2021.
Silicon Valley Reads is presented by the Santa Clara County Library District, Santa Clara County Office of Education, and the San Jose Public Library.
Media Contact:
Reid Myers
Silicon Valley Reads
siliconvalleyreads@gmail.com