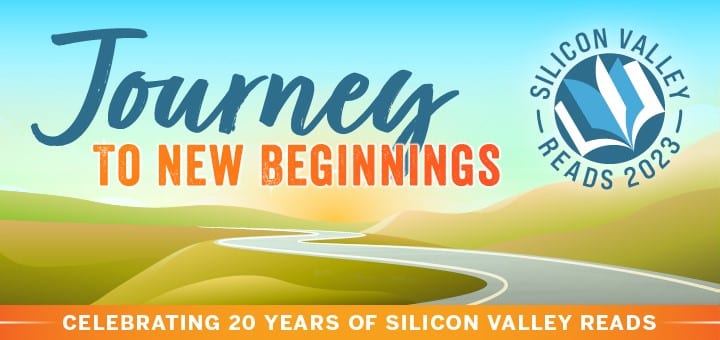 For the last two decades, Silicon Valley Reads has brought people together with books and events centered on a focused theme that resonated with the community. This countywide reading engagement program will mark 20 years in 2023, with special programs at schools, libraries and local organizations. We will celebrate the anniversary and the kickoff of the 2023 season on Thursday, January 26, 2023 with an in-person and live-streamed author event including featured authors Tommy Orange, Amanda Skenandore and Kai Harris at the Visual & Performing Arts Center Theater at De Anza College in Cupertino.
Over the last two years, when the world experienced a global pandemic, Silicon Valley Reads gave people hope for the future with themes like "Connecting" and "The Power of Kindness, Resilience and Hope." It has become clear that in 2023, the community is ready to move forward. For its 20th anniversary, Silicon Valley Reads will set off on a "Journey to New Beginnings."
Featured Titles:

This wondrous novel follows 12 characters from Native communities who are all traveling to the Big Oakland Powwow, and are all connected to one another in ways they may not yet realize. This chorus of voices tells of the plight of the urban Native American--grappling with a complex and painful history, with an inheritance of beauty and spirituality, with communion and sacrifice and heroism. Hailed as an instant classic, There There is at once poignant and unflinching, utterly contemporary and truly unforgettable.
There There won the 2019 PEN/Hemingway Award, the 2018 National Book Critics Circle Award "John Leonard Prize" and was a Pulitzer Prize finalist.

The glamorous world of a silent film star's wife abruptly crumbles when she is exiled hundreds of miles from home to be detained at the Carville Lepers Home in this page-turning story of courage, resilience, and reinvention set in 1920s Louisiana and Los Angeles.
Based on the true story of continental America's only leper colony, The Second Life of Mirielle West brings vividly to life the Louisiana institution, where thousands of people were stripped of their civil rights, branded as lepers, and forcibly quarantined throughout the entire 20th century.

Told from the perspective of 11-year-old Kenyatta Bernice (KB), this coming-of-age novel follows KB and her teenage sister, Nia, as they are sent to live with their estranged grandfather after the death of their father and the loss of their home.
A dazzling and moving novel about family, identity, and race, What the Fireflies Knew reveals the heartbreaking but necessary component of growing up – the realization that loved ones can be flawed and that the "perfect family" we all dream of looks different up close.
---
Children's Companion Books

Miguel's pet frog, Coquí, is always with him: as he greets his neighbors in San Juan, buys quesitos from the panadería, and listens to his abuelo's story about meeting baseball legend Roberto Clemente. Then Miguel learns that he and his parents are moving to the U.S. mainland, which means leaving his beloved grandparents, home in Puerto Rico, and even Coquí behind. Life in New York City is overwhelming, with unfamiliar buildings, foods, and people. But when he and Mamá go exploring, they find a few familiar sights that remind them of home, and Miguel realizes there might be a way to keep a little bit of Puerto Rico with him--including the love he has for Coquí--wherever he goes.

A young immigrant girl joins her aunt and uncle in a new country that is unfamiliar to her. She struggles with loneliness and a fierce longing for the culture and familiarity of home, until one day, her aunt takes her on a walk. As the duo strolls through their city park, the girl's aunt begins to tell her an old myth, and a story within the story begins.
A long time ago, a group of refugees arrived on a foreign shore. The local king met them, determined to refuse their request for refuge. But there was a language barrier, so the king filled a glass with milk and pointed to it as a way of saying that the land was full and couldn't accommodate the strangers. Then, the leader of the refugees dissolved sugar in the glass of milk. His message was clear: Like sugar in milk, our presence in your country will sweeten your lives. The king embraced the refugee, welcoming him and his people. The folktale depicted in this book was a part of author Thrity Umrigar's Zoroastrian upbringing as a Parsi child in India, but resonates for children of all backgrounds, especially those coming to a new homeland.
(Middle School 5th-8th)
Omar and his younger brother, Hassan, have spent most of their lives in Dadaab, a refugee camp in Kenya. Life is hard there: never enough food, achingly dull, and without access to the medical care Omar knows his nonverbal brother needs. So when Omar has the opportunity to go to school, he knows it might be a chance to change their future . . . but it would also mean leaving his brother, the only family member he has left, every day.
Heartbreak, hope, and gentle humor exist together in this graphic novel about a childhood spent waiting, and a young man who is able to create a sense of family and home in the most difficult of settings. It's an intimate, important, unforgettable look at the day-to-day life of a refugee, as told to New York Times Bestselling author/artist Victoria Jamieson by Omar Mohamed, the Somali man who lived the story.

In Rosario, Argentina, Camila Hassan lives a double life. At home, she is a careful daughter, living within her mother's narrow expectations, in her rising-soccer-star brother's shadow, and under the abusive rule of her short-tempered father. On the field, she is La Furia, a powerhouse of skill and talent. When her team qualifies for the South American tournament, Camila gets the chance to see just how far those talents can take her. In her wildest dreams, she'd get an athletic scholarship to a North American university.
But the path ahead isn't easy. Her parents don't know about her passion. They wouldn't allow a girl to play fútbol—and she needs their permission to go any farther. And the boy she once loved is back in town. Since he left, Diego has become an international star, playing in Italy for the renowned team Juventus. Camila doesn't have time to be distracted by her feelings for him. Things aren't the same as when he left: she has her own passions and ambitions now, and La Furia cannot be denied. As her life becomes more complicated, Camila is forced to face her secrets and make her way in a world with no place for the dreams and ambition of a girl like her.
SCCLD Silicon Valley Reads 2023 Events
No related upcoming events.
Celebrate 20 Years of Silicon Valley Reads