Welcome to the 16th Annual SCCLD Poetry Contest!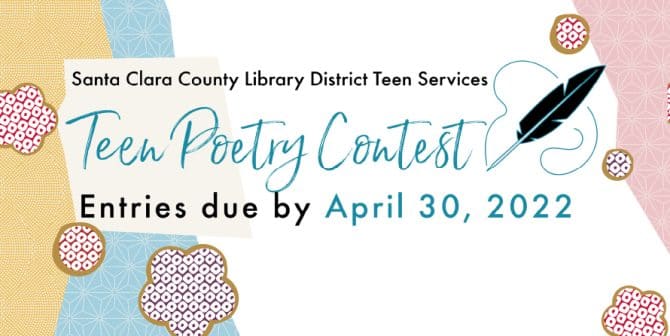 We invite teens to create up to three poems and send them to us.
HOW DOES IT WORK?
One winner from each library will be chosen in the following categories: Grades 6-8 (Middle School) and Grades 9-12 (High School).
Winners will receive a $50 gift card and will be contacted by phone or email by May 31, 2022.
You must pick up your prize by June 30, 2022.
POETRY REQUIREMENTS:
Participants may submit up to three original poems that are no longer than 30 lines per poem.
Submitted poems will not be returned. They must be printed neatly or typed. Make sure it's legible.
Poems will be judged by grade level, original content, style, vocabulary, and creative expression.
HOW DO I SUBMIT?
Online (form below) OR in person with an entry form at the library. Poems submitted in person without the form will not be considered. Make sure to attach the completed form.
Please note that the online submission form may distort the format of your poem. If the format is integral, please turn in your poem at the library.
The last day to submit entries is April 30, 2022.