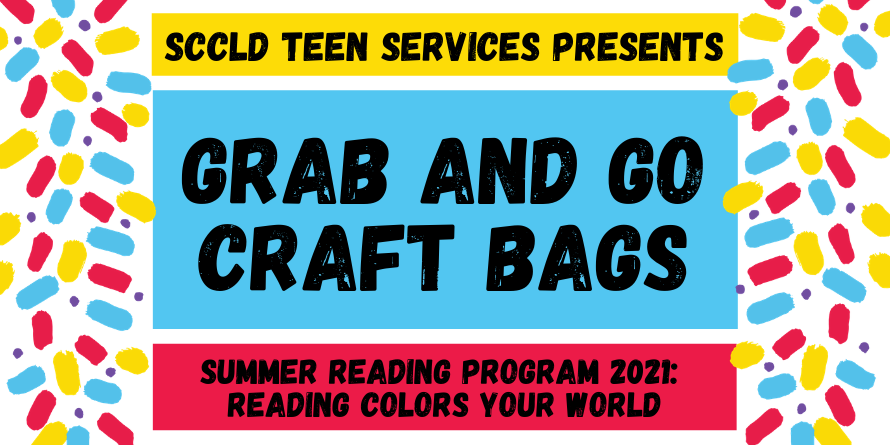 This year's Summer Reading Program theme is Reading Colors Your World. The SCCLD Teen Services Librarians are giving out weekly Grab and Go Craft Bags to help the Teens of Santa Clara County celebrate and create this summer! Each week's bag will feature a different craft with instructions and supplies included! All bags will be handed out on a first come first serve basis, and are only for patrons ages 13-18.
Week 1: 6/7-6/13: Summer Reading Welcome Pouch – This bag is filled with art supplies and welcome goodies to kick off Summer Reading!
Week 2: 6/14-6/20: Friendship Bracelet: Friendship Bracelet – You'll learn how to easily weave colorful thread into a bracelet with just a few supplies! Wear it yourself or give it away to a friend.
Week 3: 6/21-6/27: Tie-Dye Face Mask – Nothing says summer quite like tie-dying! Share your creative skills by dyeing your very own face mask.
Week 4: 6/28-7/4: Kid For a Day – Ever miss playing with crayons, chalk, or play-doh? With this craft bag, you can get creative with these classic childhood art supplies.
Week 5: 7/5-7/11: Clay Figures – Make a clay figure your way! You will be given multiple colors of air dray clay to make your figurines come to life.
Week 6: 7/12-7/18: Kinetic Moon Sand – Learn how to make moon sand! This classic de-stressing sand can be made and used over and over again.
Week 7: 7/19-7/25: Watercolor – With this set of watercolor paints and paper, make your very own masterpiece!
Week 8: 7/26-8/1: Origami – Three pieces of origami paper, endless possibilities. Make simple or complex with these origami pages.