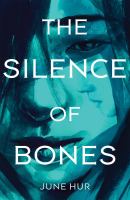 The Silence of Bones by June Hur
326 pgs, Gr. 9+
Seol is a 16 year-old girl who has been sent to the capital of Joseon (Korea) as an indentured servant to the police bureau. Men are not allowed to touch women's bodies, so Seol is assigned to be a damo, who moves and inspects female victims in place of male officers. When a young noblewoman is found murdered, Seol becomes interested in the investigation and begins to work for Inspector Han to look deeper into the death.
Joseon is in a time of some political unrest, and the presence of Catholics in the country is becoming more controversial. Will Seol's discoveries lead to her being swept up in a possible political purge? Will her interest in the investigation lead her to meddle too far? A historical Korean CSI type thriller.
Check out other Teen Picks of the Month:
List created by SCCLD LIBRARIANS FOR TEENS
Every month the SCCLD Teen Librarians choose one book as a great read from the library's Teen collection. This is the list of the latest picks of the month.